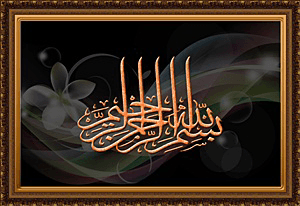 MasyaaAllah… equinox ni memang terasa sungguh. "Ya Allah ampunilah segala dosa-dosa kami, jauhilah kami dari keburukan cuaca ini dan keburukan yang ada padanya. Kurniakanlah kami kebaikan cuaca ini dan kebaikan yang ada padanya. Aamiin….."  MashaaAllah … the equinox phenomenon this time around is really felt by most of us. " O Allah, forgive us for all our sins, please prevent us from the disaster of this weather and grant us the good of this weather. Aameeeen……"
Ramai yang saling berpesan di FB,whatsapp dsb tentang ikhtiar2/langkah2 yang boleh kita ambil untuk mengelak strok haba. Antaranya tentang pemakanan kita, iaitu elak buat sementara ini memakan daging (dikhuatiri memanaskan badan), makanan2 manis (bergula) dan banyakkan memakan buah2an dan sayur2an.Minum banyak air(masa ni mau dapat air kelapa muda ♥).  Many through FB, whatsapp and so on kept reminding each other on preventive measures to avoid the heat stroke. Among the measures is on our diet. Avoid eating foods like meat (may induce heat to the body) sweet foods and consume a lot of fruits and vegetables. Drink plenty of water(probably young coconut water this time around will be nice ♥)
Kalau teringin makan koay teow sup, gunakan bebola ikan dan kek ikan sebagai mengganti daging. Habeh ceghita. Feel like having some noodle soup, then use fish balls and fish cakes instead of meat. No big deal.
Koay teow sup
Bahan-bahan :
HIASAN/GARNISHING
1
Bawang putih(3 labu) digoreng utk. hiasan. Fried garlic (3 bulbs) for garnishing.
2
Daun sahaja diguna untuk hiasan. Batang digunakan dalam sup. Only the leaves are used for garnishing. The stalks are added into the soup.
3
2 genggam cili kering dibuang biji, potong pendek2 dan direbus hingga lembut.Mesin halus. 2 handfuls of dried chillies, remove seeds, cut into smaller pieces and boil until softened. Blend finely.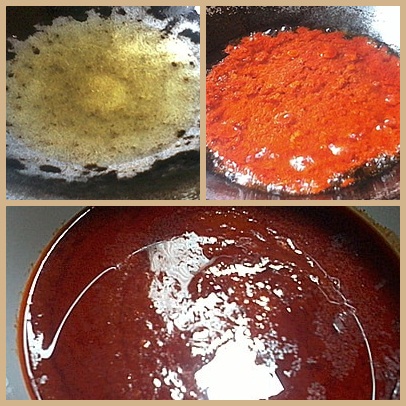 Guna minyak gorengan bawang putih untuk menumis pes cili. 

Re-use the oil for frying the garlic to fry the chilly paste.

Tumis cili hingga garing dan cili betul2 masak. 

Fry the chilly paste until thoroughly cooked.

Masukkan sedikit air asam jawa. 

Add in a small amount of tamarind juice.

Masukkan garam dan gula secukup rasa. 

Add salt and sugar to taste.
Catatan: Kalau tak mau buat sambal cili kering ni, boleh diganti dengan hirisan cili besar merah. Cili merah dibuang biji, dibelah 8 dan dihiris kecil2. Tabur saja di atas koay teow.             N/B : This chilly paste can be substituted with fresh red chillies. Remove seeds of the red chillies, cut up into 8 strips and slice finely. Just sprinkle the red chillies directly on the noodles.
SUP/ SOUP
Bebola ikan dan kek ikan . Fish balls and fish cakes.
Tumis 5 ulas bawang putih hingga kekuningan. 

Fry 5 pips of garlic until golden brown.

Masukkan air dan serbuk lada hitam (2 cb).Biar mendidih. 

Add in water and 2 tbsp of black pepper powder.Bring to the boil.

Masukkan hirisan bebola dan kek ikan. 

Add in slices of fish balls and fish cakes.

Biarkan bebola dan kek ikan masak. Masukkan garam secukup rasa. 

Let the fish balls and fish cakes be cooked through. Add in salt to taste.

Masukkan hirisan batang daun bawang. Kacau sebentar dan padam api. 

Add in slices of the spring onions stalks. Give a stir and turn off the stove.
Alhamdulillah…..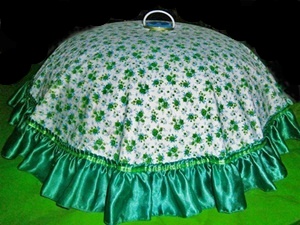 Sup ni boleh juga dimakan dengan mi.