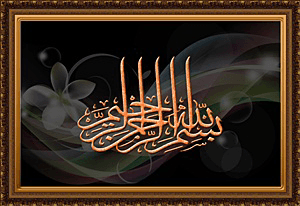 Sup yang disiapkan oleh Fiza. The soup was prepared by Fiza.

Daging dan tulang. Beef plus bones.
Bahan2 untuk ditumis. 

Ingredients to be fried.

Tumis bawang besar dulu hingga lembut. 

Fry the onions first until softened.

Masukkan bawang putih,halia,bunga lawang,kayu manis,bunjut sup,cili padi dan daun pandan.Goreng hingga kuning keemasan.

Throw in sliced garlic, ginger, star anise,cinnamon stick,bouquet garni,small chilllies and screwpine leaves.Fry til golden brown.
 Masukkan air. 

Pour in water.

Masukkan daging dan tulang.Rebus sehingga daging pada tulang lekang. Masukkan garam secukup rasa. 

Add in the meat plus the bones.Boil until the meat attached to the bones loosen off(detached).Add salt to taste.
Untuk bihun / For the noodles
Didihkan air yang dicampurkan dengan 1 ct serbuk kunyit. 

Boil some water with 1 tsp of turmeric powder.

Masukkan bihun yang telah direndam hingga kembang.Biarkan sebentar,kemudian tapis dan jirus dengan air paip hingga sejuk.

Add in the vermicelli noodles and leave it for awhile. Strain with a colander and pour over with tap water until it cools down.
 Hidangkan bihun cara yang kita mahu.Masukkan hirisan daun bawang dan daun sup. 

Serve the noodles the way we like it.Add in chopped celeries and spring onions.

Cedukkan sedikit sambal kicap. 

Scoop some hot soy sauce.

Tabur dengan bawang goreng. 

Sprinkle some fried shallots.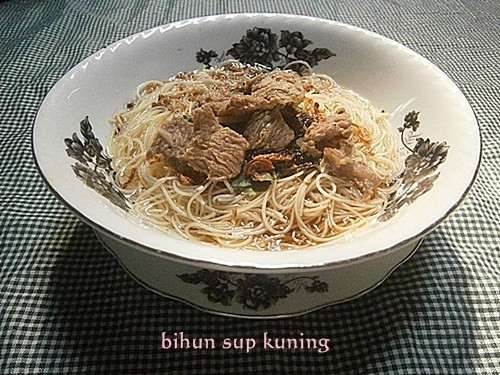 Pour the soup and some meat. Alhamdulillah.….   Sendukkan sup dan sedikit daging. Alhamdulillah…..