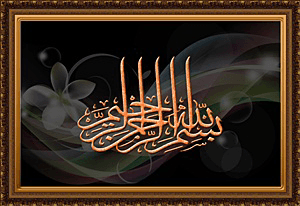 Beras 6 kole/6 mugs of rice
Air pada nisbah 1:1.5 / Water to the ratio of 1:1.5
1 ekor ayam dipotong kecil . 

1 chicken chopped into small pieces

Rebus ayam hingga empuk. 

Boil chicken till cooked.
Hiris halus bawang besar,bawang putih dan halia. 

Chop up 1 onion,pips of garlic and ginger.

Panaskan minyak sapi dalam periuk nasi. 

Heat ghee in a rice cooker.

Tumis bawang besar dan daun pandan hingga lembut.Kemudian masukkan hirisan bawang putih dan halia.Biar hingga kuning keemasan. 

Fry the onion and screw-pine leaves till softened.Add in chopped garlic and ginger.Let it turn golden brown.

Masukkan 7 kole air rebusan ayam dan 2 kole air (kesemuanya 9 kole). 

Add in 7 mugs of chicken stock plus 2 mugs of water (9 mugs altogether).

Masukkan 3 sudu kayu sos tiram.Masukkan garam secukup rasa dan kacau. 

Add in 3 wooden spoons of oyster sauce.Add in salt to taste and give it a stir.

Tutup periuk nasi dan biar air rebusan ayam ini mendidih. 

Cover the rice cooker with its lid and let the chicken stock boils.

Masukkan beras yang telah dicuci bersih.Tutup periuk dan biar sehingga masak. 

Add in the washed rice grains.Cover the rice cooker and let the rice cook.
Sementara itu /

Meanwhile
Lumur ayam rebus dengan sos tiram secukupnya.Perap sebentar dan goreng.Goreng kesemua sekaligus dengan sedikit minyak dalam kuali. Rub a generous amount of oyster sauce to the boiled chicken pieces.Marinade for awhile and then stir fry them.Fry all in one shot in a wok with little cooking oil.
الحمد للَّه
Dah siap.   It's ready.
Mesin cili merah,seulas bawang putih,seulas bawang merah/sehiris bawang besar dengan sedikit cuka.Tambah sedikit air masak jika sos nampak pekat.


Blend red chillies, a pip of garlic,1 shallot/slice of onion with some vinegar.Add a little water if the dip seems a bit thick.

Masukkan gula dan garam secukup rasa.Sos mesti mempunyai rasa masam2 manis. 

Add in sugar and salt to taste.This dip should taste sweet sourish.