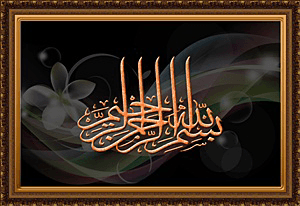 Ada orang kata ikan seludu lebih sedap dari ikan plotan. Isi seludu lebih halus dari isi plotan. Ada yang kata sebaliknya… citarasa masing2 la kot…..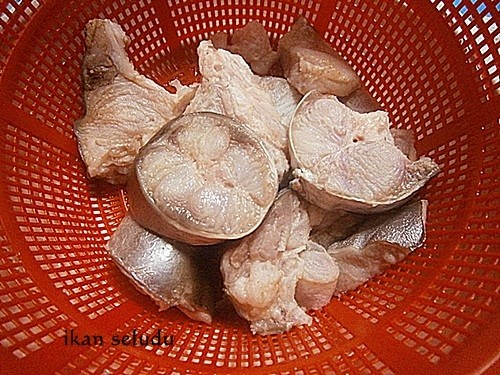 Ikan seludu ni dikatam siap di pasar. Cuma kalau kita nak ketulan yang lebih kecil,potong sendiri la pulak. Rendam sebentar dalam air asam jawa dan basuh bersih2. This is a kind of the marine catfish. The fish was readily cut by the fishmonger at the market.We can further cut into smaller pieces if we wish to. Soak awhile in tamarind water and wash clean.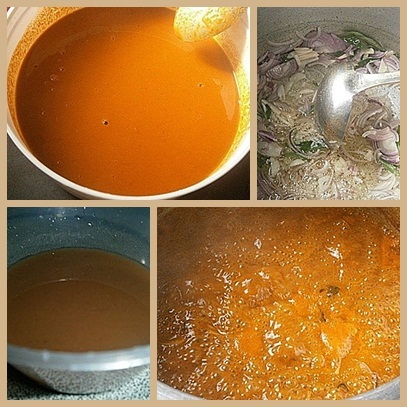 Sementara itu kacau serbuk kari ikan(3 peket kecil) dengan air mendidih dan biarkan selama 20 minit.  

Meanwhile stir the fish curry powder (3 sachets) in boiling water and leave aside for 20 minutes.

Panaskan minyak masak dalam periuk dan tumis bawang putih,bawang besar dan daun kari.

Heat some cooking oil in a cooking pot and fry garlic,onion and curry bush leaves.

Bila bawang dan daun kari telah kuning keemasan, masukkan bancuhan rempah ke dalam periuk dan biar hingga rempah benar2 masak.Masukkan sedikit air asam jawa dan biar mendidih. 

When the fried ingredients have turned golden brown,add in the curry mixture and let the curry cooked through.Add in some tamarind juice and let it boils.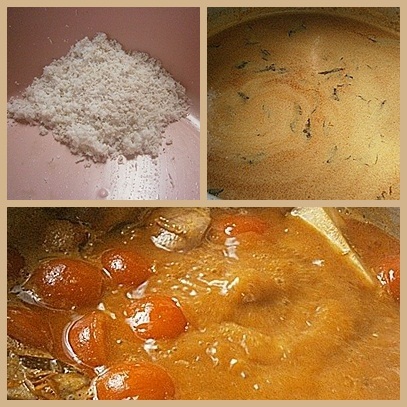 Masukkan santan (dari 1/2 biji kelapa) dan biarkan santan pecah minyak. 

Add in coconut milk (from 1/2 coconut) and let the coconut milk cooks through and disperses.

Masukkan 2 biji terung bulat(dibelah 4) dan 3~5 biji tomato(dibelah dua).Biar hingga terung masak.Kemudian masukkan ikan dan biar hingga ikan masak. 

Add in 2 egg-plants (quartered) and 3~5 tomatoes (halved).Let the egg-plants cook through.Add in the fish and also let the fish cook through.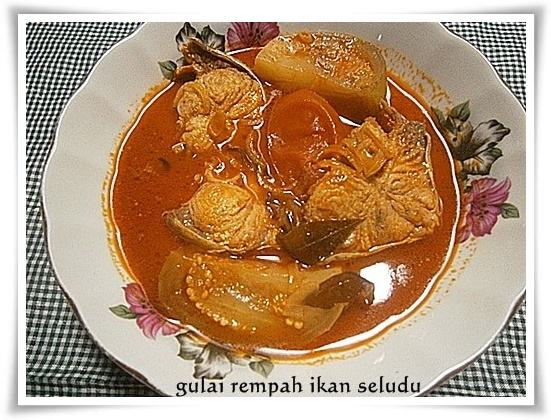 Alhamdulillah….. the dish is ready.(the dish was prepared by Fiza). Alhamdulillah…..hidangan dah siap.(hidangan disediakan oleh Fiza)