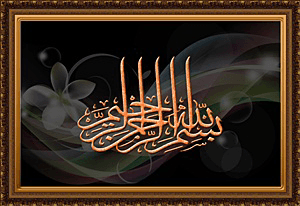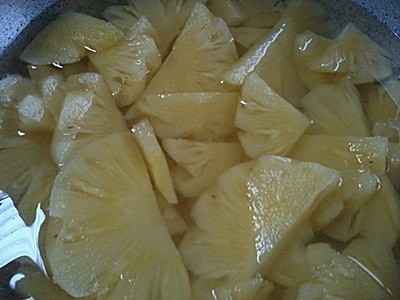 Nenas dikupas dan dibelah dua.Sebahagian dihiris separuh bulatan dan sebahagian lagi dihiris kecil.Rebus dengan 1 cawan gula  hingga lembut. Peel one pineapple and cut it into half.Slice part of it into semi-circles and some into small sizes.Boil with 1 cup of sugar till it softened.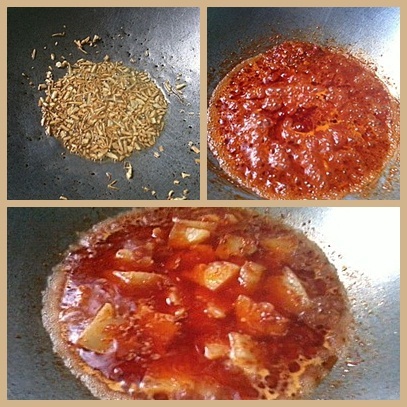 Tumis bawang putih dan halia hingga kuning keemasan. 

Heat oil and fry chopped garlic and ginger till golden brown.

Masukkan cili kering (1 genggam) yg.dimesin. Goreng hingga cili betul2 masak. 

Add in the blended dried chillies (1 handful of dried chillies).Fry till the chilly paste is thoroughly cooked.

 Masukkan nenas dan sirap.Masak hingga kuah hampir pekat. 

Add in the pineapples and the syrup.Cook till the gravy almost thickened.

Masukkan sos tomato,sos cili dan sos tiram. Tambah gula dan garam jika perlu. 

Add in the chilly sauce,tomato sauce and oyster sauce.Add in sugar and salt if required.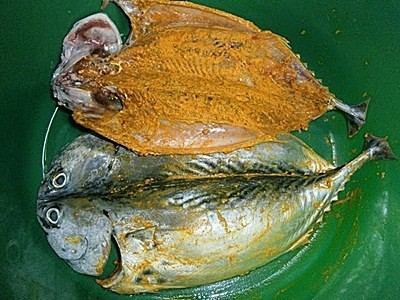 Goreng ikan tuna tetapi jgn garing. 

Fry the tuna but don't let it crisp.

Masukkan ikan tuna goreng,hirisan bawang besar dan cili padi ke dlm sos.Biar bawang lembut.

Add in the fried tuna,sliced onion rings and small chillies into the sauce.Let the onion softened.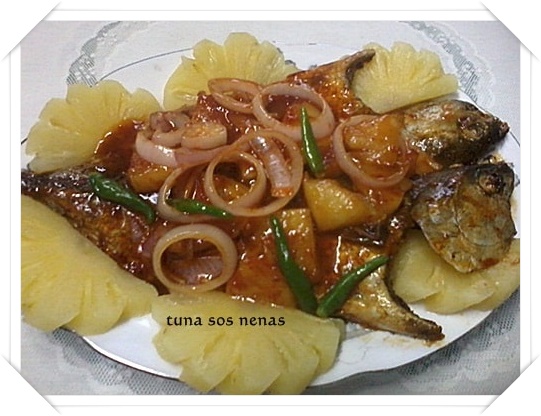 Alhamdulillah.