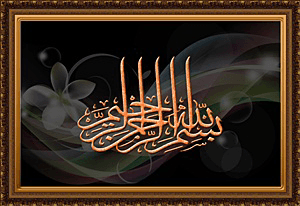 Selera makan ni tak menentu….. musim panas macam ni, makan makanan yg mengandungi asam jawa elok jugak sebab asam jawa baik untuk menyejukkan badan. On hot weather like this, consuming foods with tamarind is good because tamarind cools down the body.
Isi ikan talang kurang manis ataupun bahasa lainnya tawar. Macam ikan gelama, ikan talang juga kebanyakannya diasinkan dan dikeringkan. The carangid lacks taste and like the croaker most carangids are salted and turned into dried fish.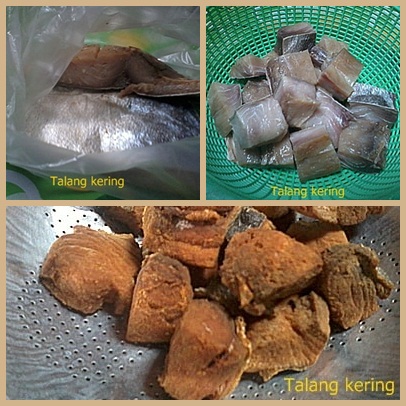 Basuh bersih-bersih isi ikan talang dan dihiris kecil. 

Wash clean slices of dried carangid and cut into small pieces.

Goreng hingga kekuningan. 

Fry until golden brown.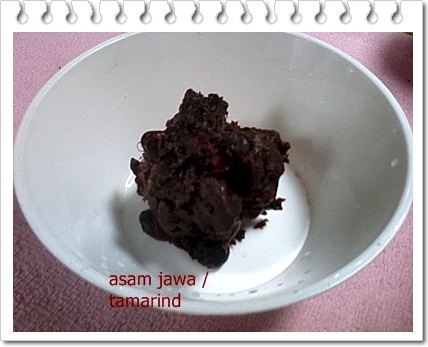 Segenggam asam jawa dibuatkan air asam jawa. Add some water to a fistful of tamarind to obtain some tamarind juice.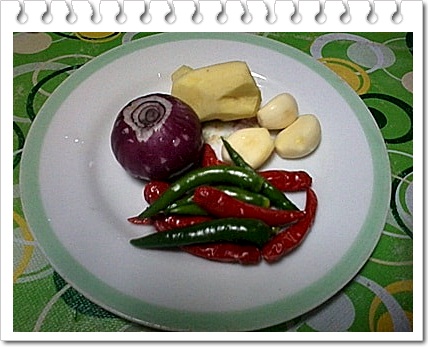 Halia dan bawang putih untuk ditumis. The pips of garlic and ginger are to be fried.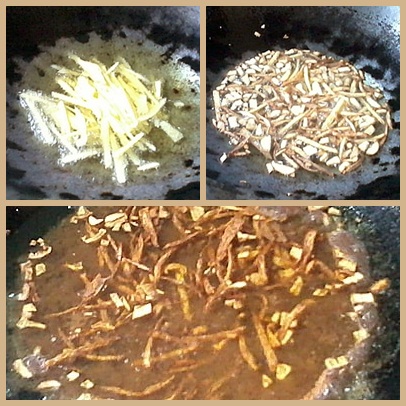 Dalam minyak yang lebih dari tumisan biasa, tumis hirisan halia dulu hingga lembut. 

In a generous amount of cooking oil, fry the slices of ginger until softened.

Masukkan bawang putih yg dicincang dan goreng hingga perang keemasan. 

Add in chopped garlic and fry further until golden brown.

Masukkan air asam jawa dan biar hingga mendidih. 

Add in tamarind juice and bring to the boil.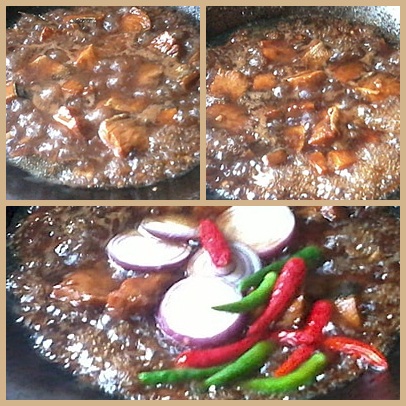 Masukkan gorengan talang kering dan biarkan sebentar. 

Add in the pieces of fried carangid and let it be for awhile.

Masukkan gula secukup rasa (masakan ni patut ada rasa masam2 manis). 

Add in sugar to taste (this dish should have a sweet sourish taste).

Masukkan hirisan bawang dan cili kecil. Kacau dan biar sebentar hingga bawang lembut. 

Add in slices of onion and small chillies.Give it a stir and let the onion softened.

Kalau hendak masakan ini berkuah, jangan tunggu hingga air asam jawa kering. 

If some gravy is preferred, then don't let the tamarind juice dries up.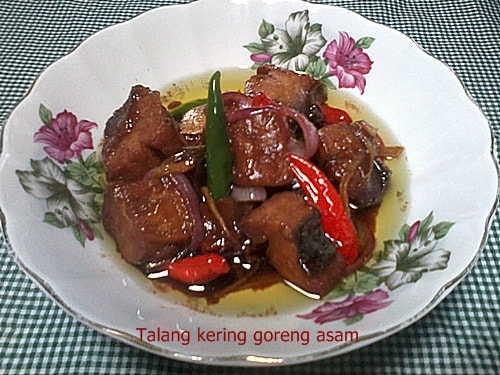 Alhamdulillah…..