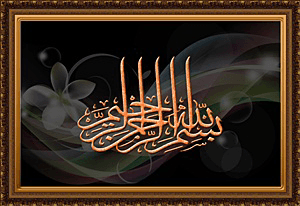 Kalau pi market, kepala ni memang dah 'tune' cari ikan, tak kira jenis apa — darat ka laut, janji ikan. Kali ni ternampak ikan jenahak. Jenis ikan "ketul" ni boleh dipelbagaikan masakan.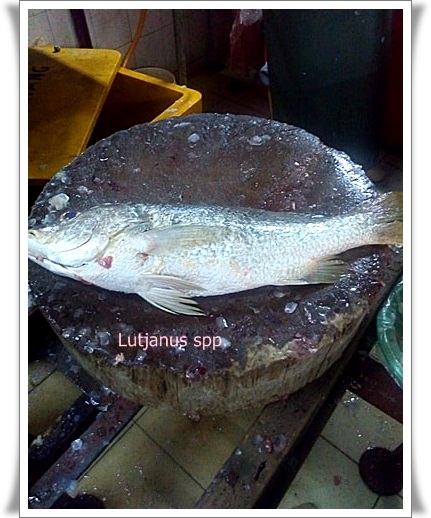 This is a kind of the snapper.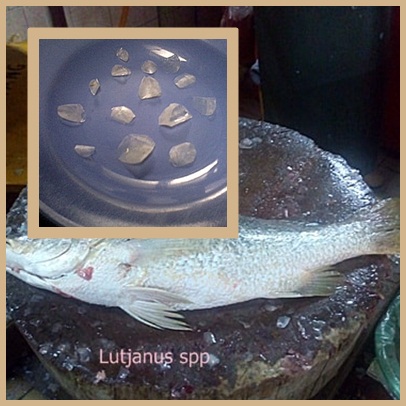 Sisik2 sisi besar2, tak boleh lalu lubang sinki. Sisik2 di perut dan berhampiran kepala kecil2 dan ada yg boleh melalui lubang sinki.The scales on the lateral sides are large, they can't pass through the holes of the sink. The ventral scales and those closer to the head are smaller and some can pass through the holes of the sink.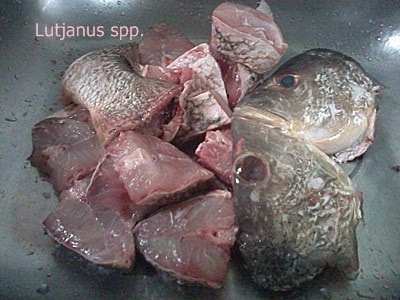 Ikan ni bila dikatam2kan , tu la sesetengah orang panggil dia ikan "ketul". Bahagian kepala, ekor dan perut nak disimpan untuk masak kari kepala ikan nanti. Ikan ni penjual ikan tu yg tolong katamkan. The head, tail and the belly parts will be reserved for the fish head curry later on. The fish(snapper) was chopped up by the fishmonger.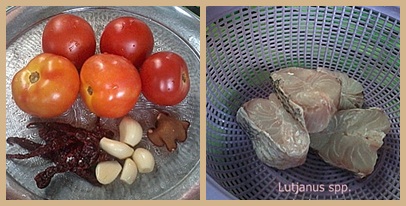 3-5 biji tomato. Kalau guna 5 biji tomato boleh rasa kepekatan tomato(terpulang). 3-5 tomatoes. With 5 tomatoes we'll get a more concentrated taste of tomatoes(as desired).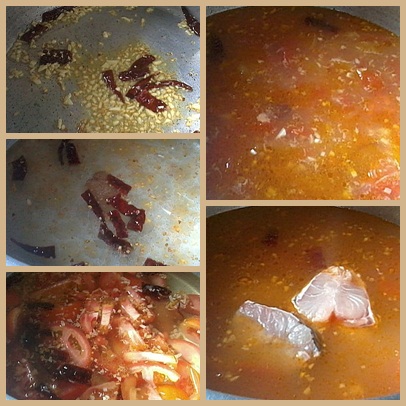 Panaskan minyak masak dlm periuk dan tumis bwg putih yg dicincang dan hirisan cili kering hingga kuning keemasan. 

Heat some cooking oil in a cooking pot. Fry chopped garlics and sliced dried chillies until golden brown.

Masukkan air dan asam keping. 

Pour in water and a piece of Malabar tamarind.

Masukkan hirisan tomato. 

Add in slices of tomatoes.

Masak hingga tomato hancur. 

Boil until the tomatoes disintegrate.

Masukkan ketulan ikan. 

Put in the pieces of fish.
Bila ikan dah masak, masukkan garam secukup rasa. When the fish is thoroughly cooked, add salt to taste.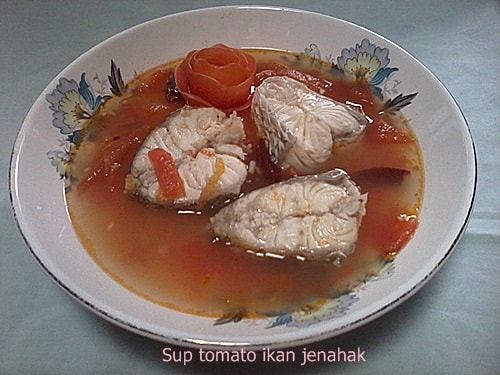 Alhamdulillah…..