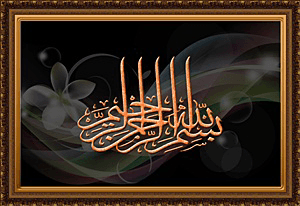 Sambal cili kering ni boleh disediakan untuk dimakan dengan mi, bihun atau koay teow sup. Boleh juga dimakan dengan mi kari. This chilli sauce can be taken with any noodle soup or curry noodles.
Bahan2 diperlukan /Ingredients :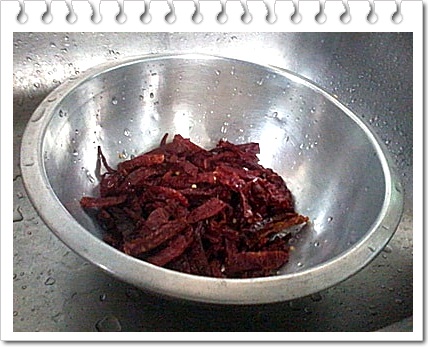 2 genggam cili kering dibuang biji, potong pendek2 dan direbus hingga lembut.Mesin halus dgn 2 cm halia. 2 handfuls of dried chillies, remove seeds, cut into smaller pieces and boil until softened. Blend finely together with 1 cm ginger .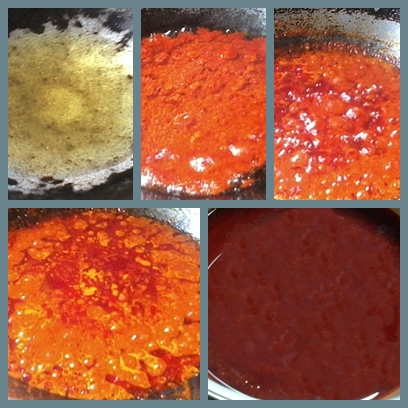 Tumis 3 ulas bawang putih  yang dicincang.

Fry  chopped garlic (3 pips).

Tumis cili hingga garing dan cili betul2 masak. 

Fry the chilly paste until thoroughly cooked.

Masukkan sedikit air asam jawa. 

Add in a small amount of tamarind juice.

Masukkan garam dan gula secukup rasa. 

Add in salt and sugar to taste.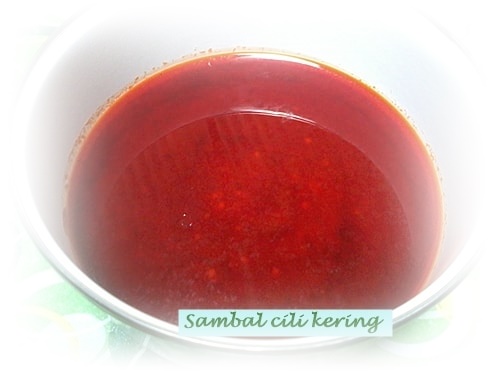 Alhamdulillah…..
Catatan: Jika ada lebihan dari sambal ini boleh disimpan dalam sejukbeku dan digunakan di masa akan datang samada untuk dimakan dengan sup atau boleh dibuat tumisan utk gorengan nasi atau mi dsb. NB: Any leftovers can be kept in the freezer for future consumption,or used as a base for fried rice or noodles etc.