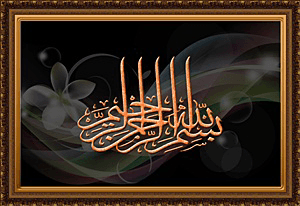 Rebung lemak cili padi
Rebung ni banyak, maka bahan2 masakan perlu banyak juga. There's plenty of the bamboo shoots,therefore the cooking ingredients have to double up.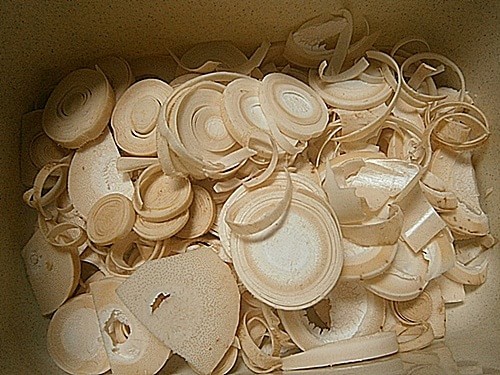 Rebung dibuang miang dan dibersihkan. Hiris2 dan masukkan ke dalam bekas besar. Remove the fine sharp hairs on the bamboo shoots  and wash clean. Put  them in a large container.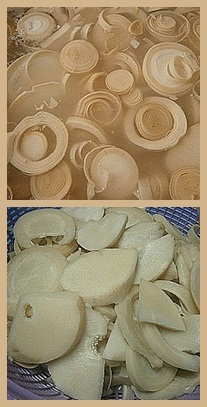 Isikan dengan air basuhan beras dan biar 3 hingga 4 hari. 

Fill the container with water from washing rice grains and leave aside for 3 to 4 days.

Basuh bersih2 rebung yang telah masam. 

Wash clean the fermented bamboo shoots.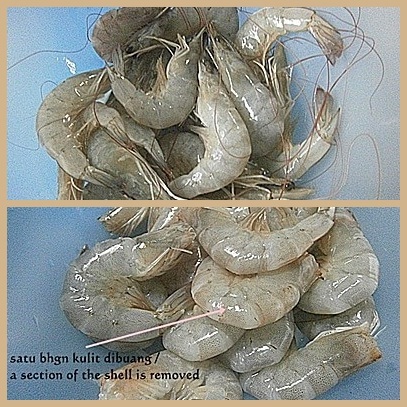 Sediakan sedikit udang hidup.

Get ready some fresh prawns.

Potong udang di bahagian kepala dan buang kantung lumpur di bahagian itu.Buang ekor yang tajam. 

Cut off the tip of the head and remove the mud sac. Cut off also the pointed end of the tail.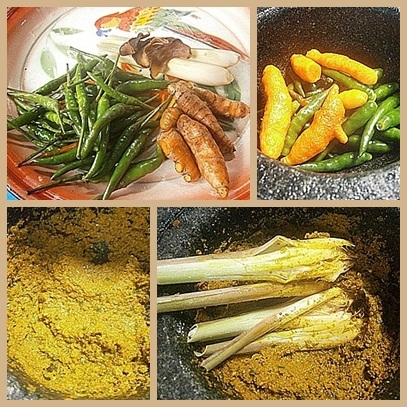 1 genggam cili padi,kunyit hidup(cukup utk menguningkan masakan),2 batang serai dan asam keping. 

A handful of small chillies ,some fresh turmeric (enough to make the gravy yellowish) 2 stalk of lemongrass and 3 pieces of Malabar tamarind.

Tumbuk kunyit dan cili padi hingga lumat. 

Pound the turmeric and small chillies til fine.

Titik serai. 

Smash the lemongrass.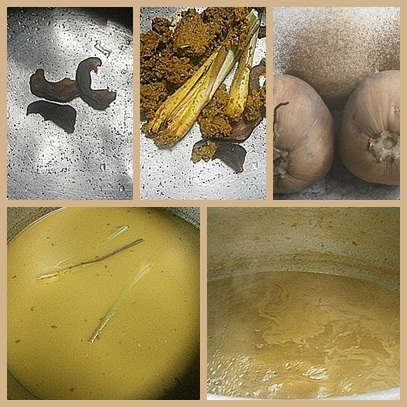 Masukkan asam keping ke dalam periuk. 

Put the Malabar tamarind in a cooking pot.

Masukkan bahan2 yg ditumbuk dan serai.

Add in the pounded ingredients and lemongrass.

Dapatkan 2 kole santan pekat dan 2 L santan cair dari 2 biji kelapa. 

Extract 2 mugs of thick coconut milk and 2 L of thin coconut milk from 2 coconuts.

Masukkan santan cair (1 1/2 L) . 

Add in 1 1/2 L of thin coconut milk .

Didihkan hingga bahan2 tadi benar2 masak dan biarkan kuah hampir kering. 

Boil til all the pounded ingredients are thoroughly cooked and let the gravy almost dries up.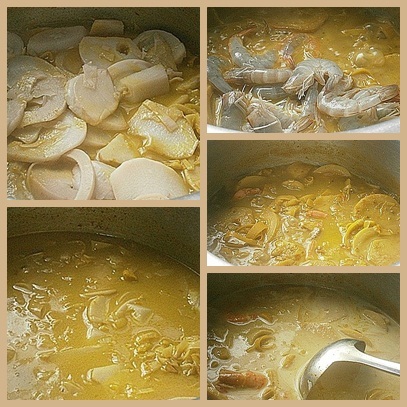 Masukkan rebung. 

Add in bamboo shoots.

Masukkan 1/2 L santan cair yg berbaki tadi.Masak hingga kuah hampir kering. 

Add in the remainder of the thin coconut milk. Cook til the gravy almost dries up.

Masukkan udang dan biar udang masak.  

Add in prawns and let it cook.

Masukkan garam secukup rasa. 

Add salt to taste.

Masukkan santan pekat dan timbuk kuah supaya santan tak pecah minyak. Padam api. 

Add in thick coconut milk and stir gravy so as not to let the coconut milk dispersed. Turn off stove.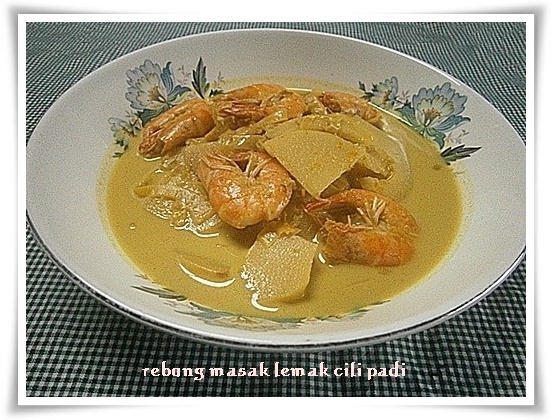 Alhamdulillah ….. the dish is ready to be taken with rice. Alhamdulillah…..siap untuk dimakan dengan nasi.