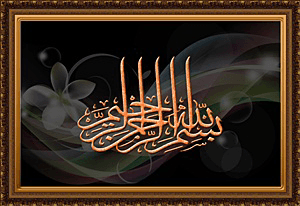 steamed glutinous rice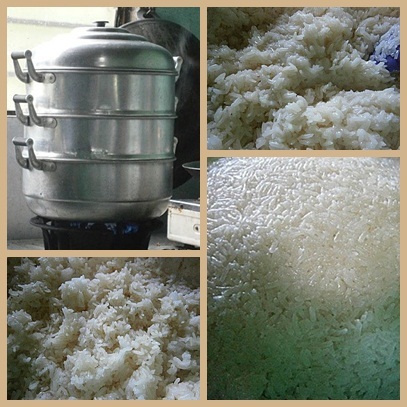 Kukus pulut (1 kg ) yg.telah direndam semalaman. Steam the glutinous/sticky  rice (1 kg) which was pre-soaked overnight.
Pastikan setiap butir betul2 masak. 

Be sure that every grain is properly cooked.

Masukkan santan (dr.1 biji kelapa).Santan terlebih dulu dipanaskan sebentar(masukkan sedikit garam).Santan biar cukup utk.membasahkan keseluruhan pulut,baru pulut akan kembang dgn.elok.Kacau rata.  

Add in coconut milk(fr.1 coconut).Simmer the coconut milk beforehand(add a little salt).Make sure the coconut milk is enough to soak the rice,so as the rice will plump up well.Mix thoroughly.

Gumpalkan dgn.senduk. 

Compress the rice using a ladle.

Pulut sedap dimakan dgn.sambal bilis, inti kelapa,ikan kering goreng,serunding atau rendang.Boleh juga dimakan dgn.buah2an spt.durian,mangga atau pisang. The glutinous rice can be taken with savoury or sweet dishes.You can have it with fruits like durians,mangoes or bananas.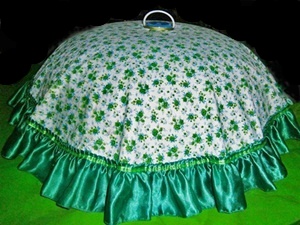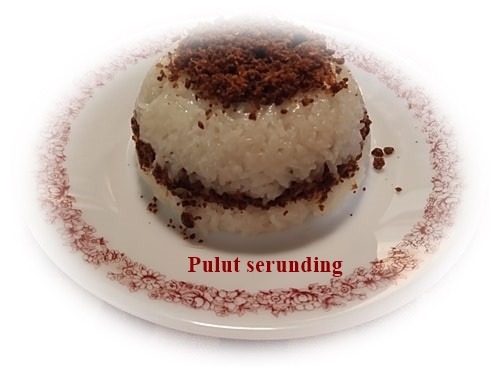 https://minsalblog.com/resipi/serunding-temenung