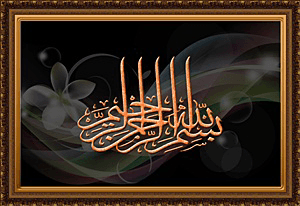 Sekarang ni nasi lemak bukan saja menjadi makanan untuk sarapan pagi semata-mata. Kalau di restoran2 atau di warung2, nasi lemak sentiasa disediakan samada siap dibungkus atau untuk dibuat pesanan(order), sepanjang hari. Dah jadi kebiasaan dah, makan nasi lemak di malam hari. The nasi lemak (creamy rice) was once a breakfast favourite. Nowadays it has become a sought-after for the whole day. One can find ready packed or served to order nasi lemak in eateries or food stalls. Eating nasi lemak at night is already a norm.
Nasi lemak yang ada pun berjenis-jenis, nasi lemak tumis, nasi lemak kukus,nasi lemak pandan dsb. Entry kami kali ni mengenai nasi lemak pandan. Sukatannya untuk ramai, jadinya kalau nak buat untuk sikit, kena kurangkan sukatan. There are a few types of nasi lemak around, the steamed nasi lemak, the screw pine flavoured etc. Our entry this time around is on screw pine flavoured nasi lemak. Do please size down on the measurement if cooking for a few number.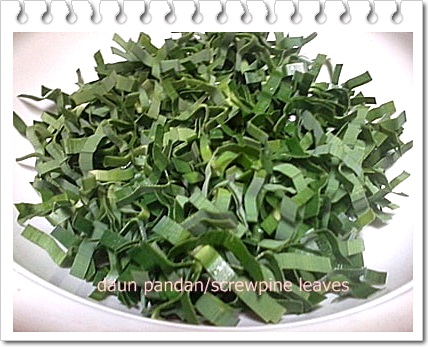 Guna sebahagian dari air untuk masak nasi untuk mesin daun2 pandan(11 daun pandan) ni.Kemudian ditapis. Use part of the water for cooking the rice to blend the screw pine leaves (11 leaves). Strain the blended leaves.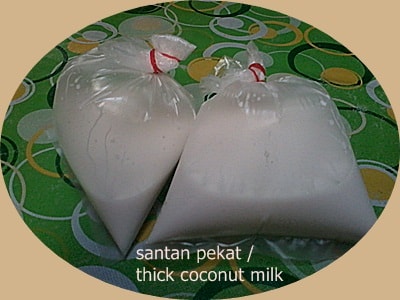 Guna 1 biji kelapa atau 2 peket kecil santan pekat untuk 6 kole beras. Use coconut milk from 1 whole coconut or simply 2 small packets of thick coconut milk for 6 mugs of rice.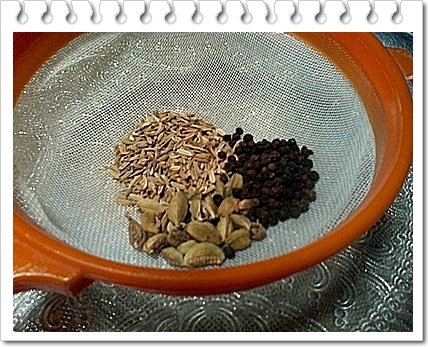 Basuh bersih buah pelaga, jintan manis/jintan kasar dan biji lada hitam. Wash clean some cardamoms, fennel seeds and black peppercorns.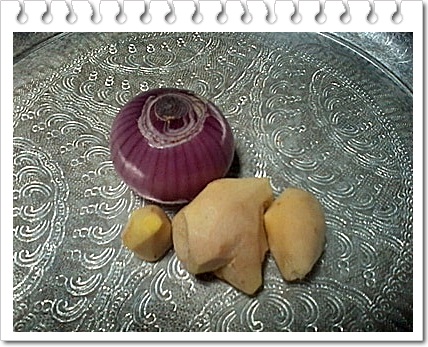 Bawang besar dan halia dihiris halus2. Slice finely an onion and some ginger.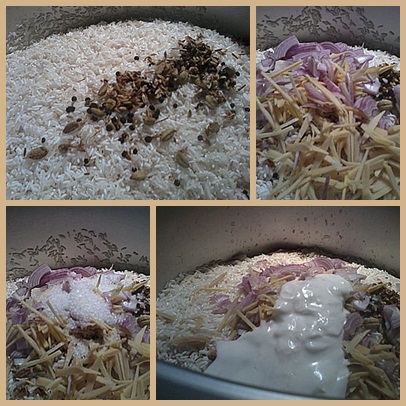 6 kole beras digunakan. Nisbah beras ke air — 1 : 1.5. 6 mugs of rice were used. The ratio of rice to water is 1 : 1.5.
Basuh bersih beras dan masukkan rempah ratus. 

Wash clean the rice grains and add in the spices.

Masukkan hirisan bawang dan halia. 

Add in the slices of onion and ginger.

Masukkan garam. 

Add in salt.

Masukkan santan. 

Add in coconut milk.

Masukkan air daun pandan. 

Add in screw pine juice.

Tanak hingga masak. 

Boil until cooked.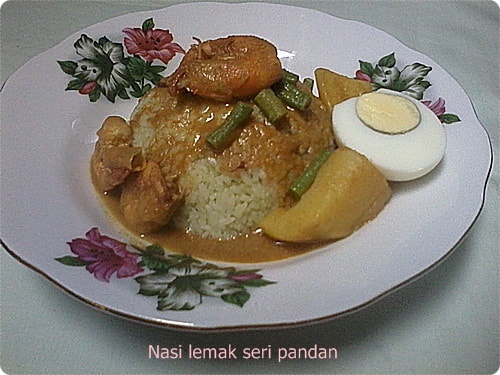 Alhamdulillah…..
Catatan: Lauk yang kami masak untuk nasi lemak ni ialah udang masak lemak kari.