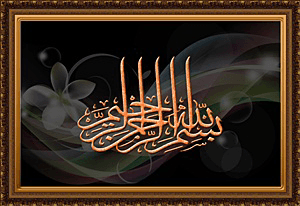 Rezeki di laman rumah. Hari ni dapat kait 4 jantung pisang, 2 besar dan 2 kecil. Yang kecil tu disebabkan dah lambat kait. Nak masak yg dua kecil tu dan 2 lagi tu pulak utk bagi kat sapa2 peminat jantung pisang. Alhamdulillah…..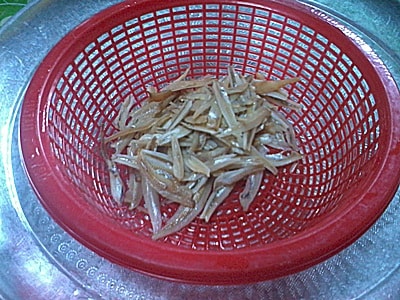 Sediakan segenggam ikan bilis. 1 handful of anchovies.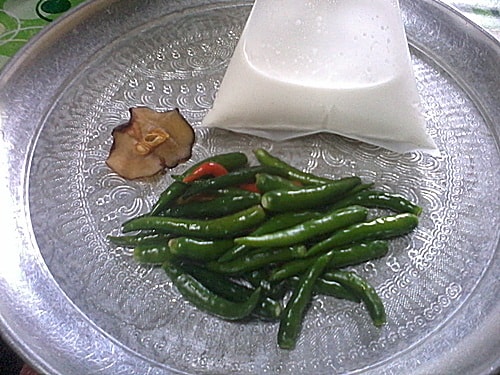 Sediakan segenggam cili padi,asam keping dan santan pekat. 1 handful of small chillies and thick coconut milk.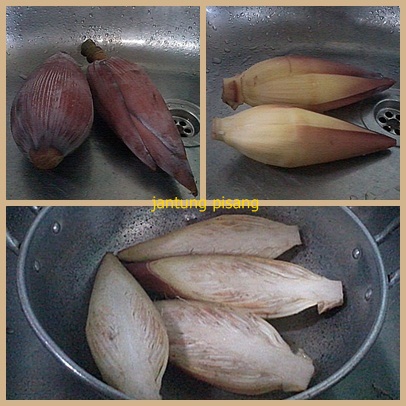 Buang kesemua tampuk luaran jantung pisang yang keras dan liat. 

Remove all the outer hard bracts of the banana heart.

Belah dua dan rebus hingga lembut. 

Halve the banana hearts and boil until tender.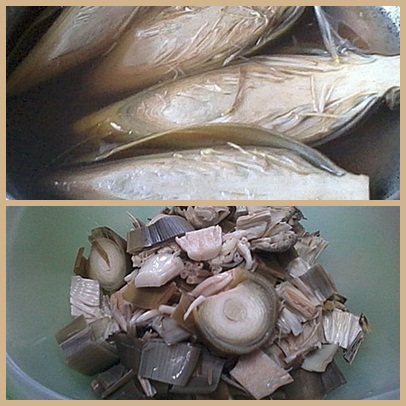 Hiris jantung pisang yang telah lembut direbus. Sliced the boiled banana hearts.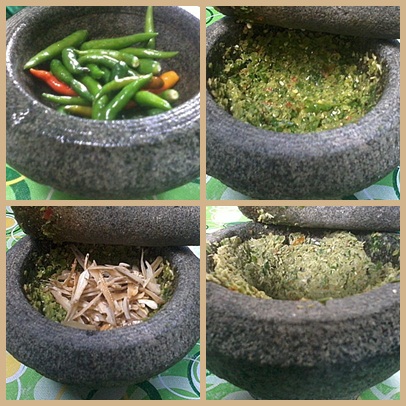 Tumbuk cili padi hingga halus. 

Pound the small chillies until fine.

Masukkan ikan bilis dan terus tumbuk hingga lumat. 

Add in anchovies and pound further until fine.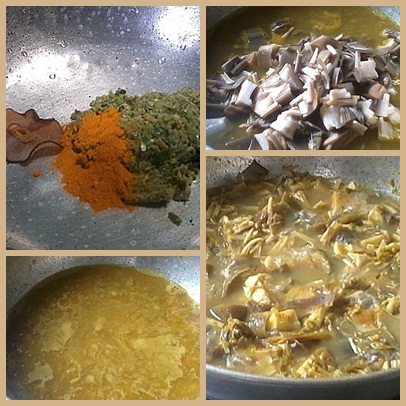 Dalam periuk masukkan cili dan ikan bilis tumbuk, 1 ct.serbuk kunyit dan asam keping. 

In a cooking pot, put in pounded chillies and anchovies, 1 tsp turmeric powder and 1 piece of Malabar tamarind.

Masukkan air atau santan cair jika menggunakan santan yg diperah sendiri.Biar mendidih dan cili benar2 masak. 

Add in water or light coconut milk. Bring to the boil.

Masukkan hirisan jantung pisang. Biar mendidih dan masukkan garam secukup rasa. 

Add in the sliced banana heart. Bring to the boil and add salt to taste.

Masukkan santan pekat dan timbuk supaya tak pecah minyak. Tutup api. 

Add in the thick coconut milk and keep stirring so that the milk doesn't disperse.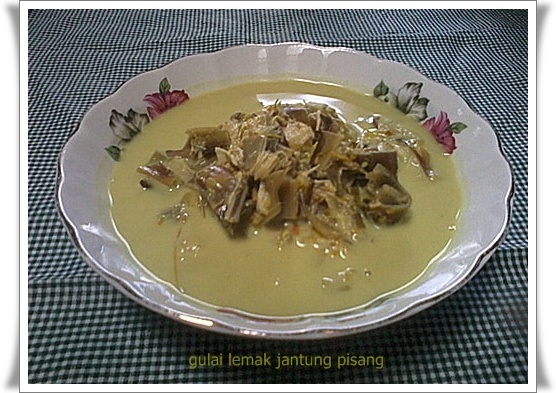 Alhamdulillah…