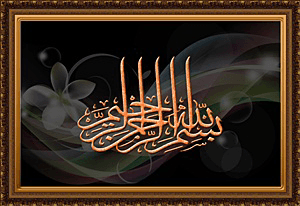 Dah ambik belimbing buluh dari pokok tepi rumah. Nak masak gulai lemak cili padi, tak tau nak gu dengan apa. Ronda2 di blog masakan, maka terjumpa resepi ni di blog Tiffinbiru . Terima kasih bnyk2 Che Mat. Semoga Che Mat akan terus berjaya,InsyaAllah.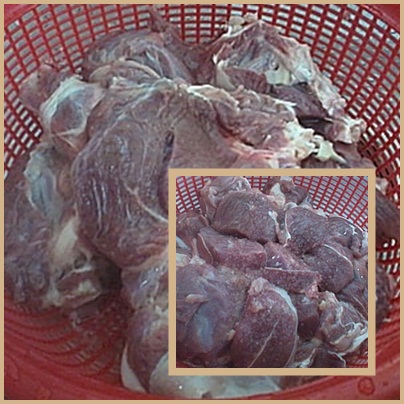 1 kg daging kambing(bercampur sedikit tulang). 

1 kg. mutton (with some bones).

Potong kecil2 dan lumur dengan sedikit garam. 

Cut into small pieces and mix with a little salt.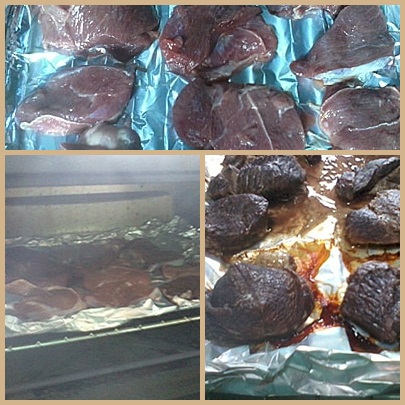 Atur daging di atas pembalut aluminium. Bakar sehingga daging masak. Arrange the mutton on a piece of alluminium foil and have it roasted in an oven.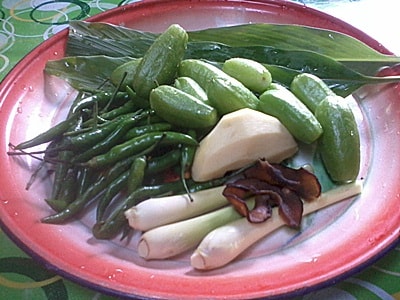 Bahan2 diguna utk. masak lemak cili padi. Ingredients for the dish.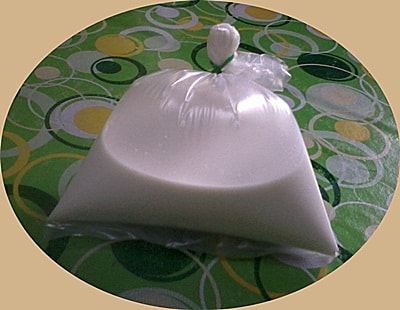 350g santan pekat (~ RM3). 350g thick coconut milk (~ RM3).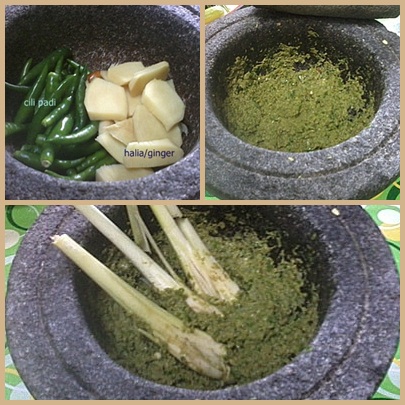 Cili padi dan halia ditumbuk lumat. 

Pound finely small chillies and ginger.

Serai dititik. 

Crush the lemongrass stalks.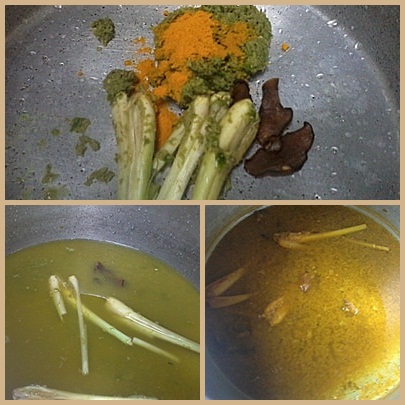 Di dalam periuk, masukkan cili tumbuk, serai, asam keping dan 1 ct. serbuk kunyit (sbb. tak ada kunyit hidup). Masukkan air dan didihkan hingga ramuan masak. In a cooking pot, combine pounded chillies, crushed lemongrass stalks, Malabar tamarind  and 1tsp of turmeric powder (fresh turmeric is unavailable). Add some water and bring the ingredients to the boil and cooked .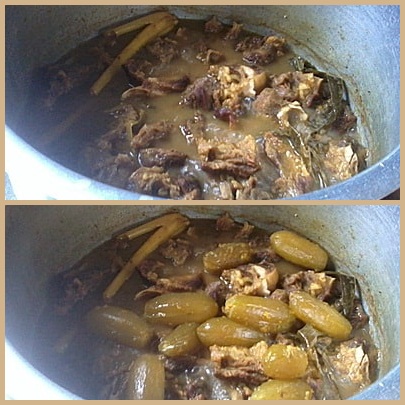 Masukkan daging dan biar hingga daging lembut. 

Add in mutton and let it becomes tender.

Masukkan belimbing buluh dan biar hingga lembut. 

Add in the bilimbi fruits and let it softens.

Masukkan garam secukup rasa. 

Add salt to taste.
Masukkan santan pekat dan timbuk supaya ia tak pecah minyak. Add thick coconut milk and keep on stirring so as the milk doesn't disperse.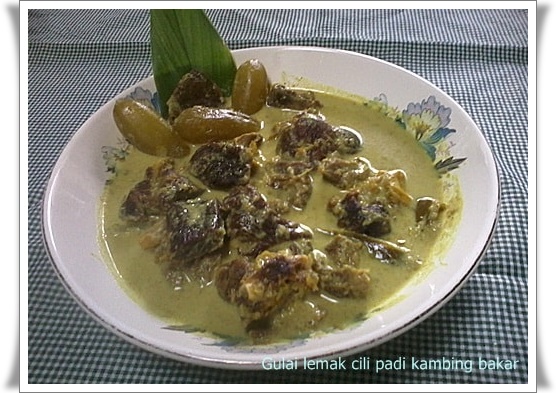 Alhamdulillah…..