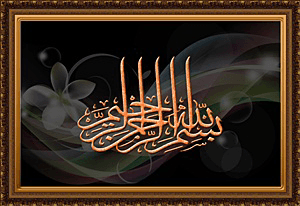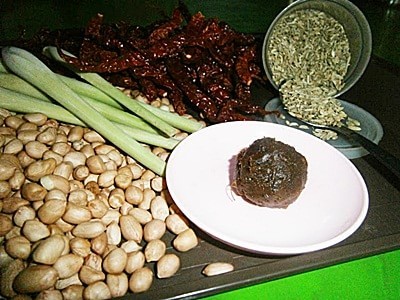 Bahan2 yg.digunakan utk.kuah kacang cara kami…..
1 1/2 ~ 2 genggam cili kering(sukatan utk.org.yg.suka pedas)
600 g. kacang tanah
5 btg.serai
1 cb.jintan manis
asam jawa (kecil sikit dr.bola pingpong)
(Sukatan boleh dikecilkan ikut kemahuan masing2.)
Ingredients for the peanut gravy,our own style….
 1 1/2 ~ 2 handfuls of dried chillies(measurement for those who love the hot stuffs)

600 g. groundnuts/peanuts

5 stalks of lemongrass

1 tbsp.fennel 

tamarind paste (smaller than the size of a table tennis ball)
( The measurements can be sized down to individual requirements.)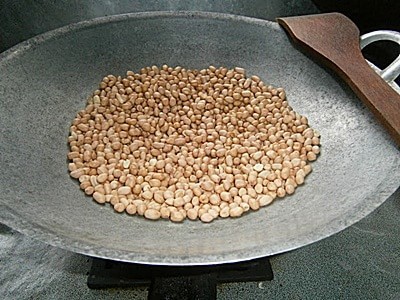 Sangai kacang tanah dgn.api yg kecil. Roast the peanuts over a small flame.
Buang kulit kacang dan kisar dlm.blender (guna air). Remove peanutskins and blend them(using water)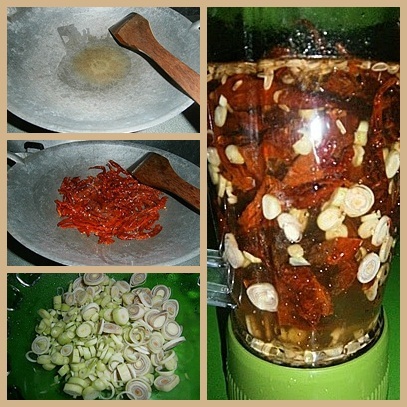 Panaskan sedikit minyak dlm.kuali. 

Heat a little oil in a wok.

Goreng cili kering yg.telah dibuang biji dan dibasuh.Ini utk.membuat kuah lebih wangi. 

Fry the dried chillies(seeds removed and washed).This gives the gravy more aroma.

Serai dihiris halus. Finely slice the lemongrass
Masukkan cili kering,serai dan jintan manis ke dlm.blender dan kisar halus. 

Put into a blender the dried chillies,lemongrass and fennel.Blend them into a fine mixture.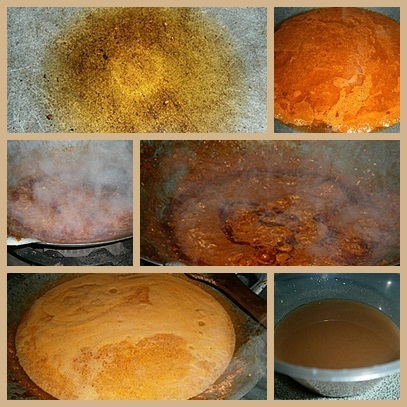 Dlm.kuali bekas goreng cili kering 

tadi,tambahkan minyak dan panaskan. 

In the wok that was used to fry the dried chillies,add more oil and heat it.

Masukkan cili kering yg.telah dikisar. 

Pour in the blended dried chillies.

Masak hingga campuran cili ini berbau wangi. 

Cook until the chilly mixture gives out the aroma.

Warna cili menjadi lebih gelap. 

The colour of the chilly mixture has turned darker.

Masukkan kacang yg.telah dikisar. 

Add in the grounded peanuts.

Masukkan air asam jawa. 

Add in the tamarind juice.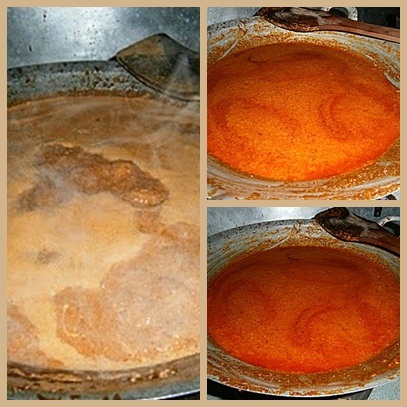 Masaklah sehingga kacang berubah dari warna putih pekat hingga jernih rupanya. 

Go on cooking till the peanuts change from white to translucent in appearance.

Masukkan 3 senduk gula.Kacau.  

Add in 3 ladles of sugar.Give it a stir.

Masukkan garam secukup rasa.Biar kuah pekat sikit,tetapi jgn.terlalu pekat. 

Add in salt to taste.Let the sauce be thick but not too thick.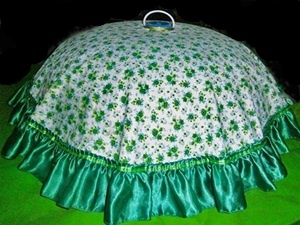 Kuah kacang ni sedap dimakan dgn.nasi empit,ketupat jawi,sate,roti atau cucur udang. This peanut sauce is best taken with nasi empit(compressed rice),ketupat,satay,white bread or prawn fritters.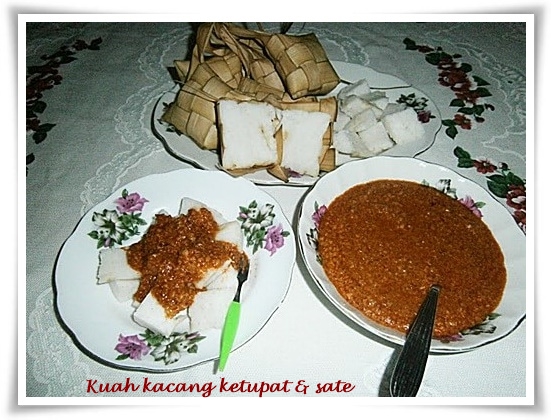 The ketupat and the peanut sauce.