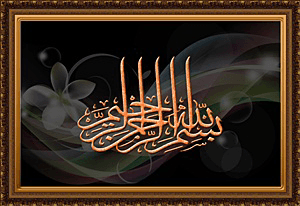 ⌈(06/07/15) MASYAALLAH! DAH SALAH SANGKA ; INI SEBENARNYA BUAH KUNDUR!
(06/07/15) MashaAllah! It was mistaken; It's actually a winter melon!⌋ 〈 Tolong abaikan nama di gambar2. Please ignore the names printed on the pictures. 〉
Oleh sebab tak sempat nak buat para,jadi pokok labu air ni pun menjalar naik di pokok belimbing besi dan jambu air yang dah tua.Jadinya buah yang tinggi-tinggi dikait dengan galah dan disambut dengan kain yang direntangkan. Did not have the time to build a proper arbor for this bottle gourd, so this vine twined itself up the old starfruit and wax apple trees.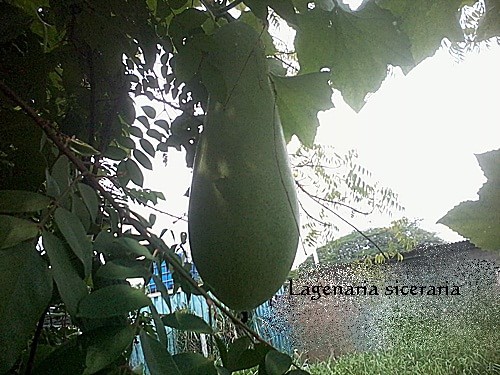 Labu air ni berat 3.7 kilo. Alhamdulillah dapat kongsi dengan jiran. This bottle gourd weighed 3.7 kg. Alhamdulillah was abled to share it with a neighbour.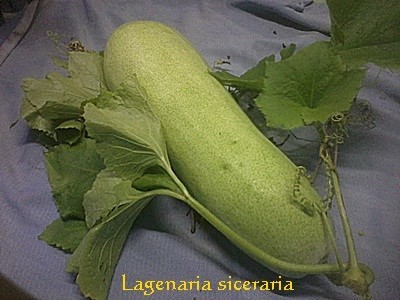 Sehari sebelum tu dapat yang ni seberat 4.05 kilo.Potong dan berikan kepada kawan2. Got this one a day before,weighing at 4.05 kg. Cut up and gave to some friends.
— ♣ —
Kari kambing dengan labu air / 
Mutton and bottle gourd curry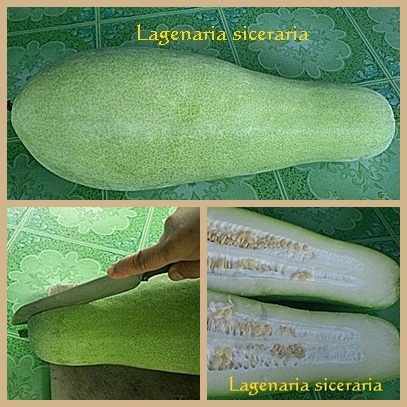 Belah dua labu air. Halve the bottle gourd.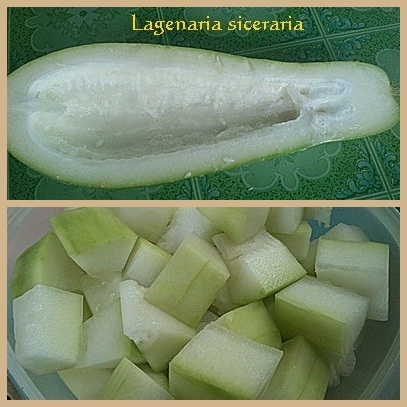 Kupas kulit dan buang biji. Basuh bersih dan potong kecil.  Peel off and remove the seeds. Wash clean and cut into small pieces.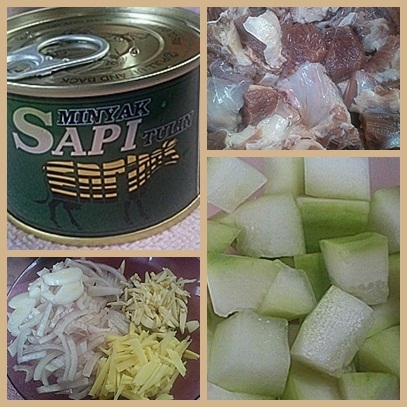 1/2 dari tin kecil(125g) minyak sapi. 

1/2 the amount of a 125g can ghee.

1 kilo daging kambing.Potong ikut saiz kesukaan. 

1 kg mutton, cut up into preferable size.

1 biji bawang besar (guna 2 biji kalau saiz kecil) dipotong nipis. 2 inci halia dan 3 ulas bawang putih. 

1 large onion thinly sliced. 2 inches of ginger and 3 pips of garlic.

Separuh dari sebelah labu yang dipotong tadi. 

Part of the halved bottle gourd.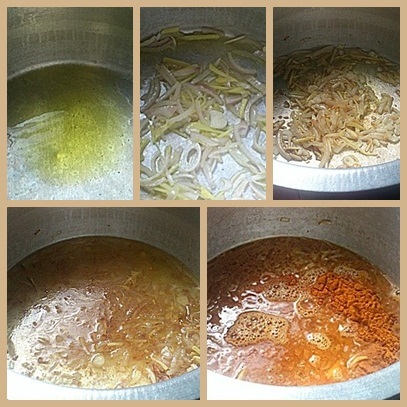 Panaskan minyak sapi. 

Heat up the ghee in a cooking pot.

Tumis bawang besar dan halia hingga lembut. 

Fry onion and ginger till soft.

Masukkan bawang putih dan tumis hingga perang keemasan. 

Add in garlic and fry further til golden brown.

Tuang sedikit air. 

Pour in some water.

Masukkan 2 senduk serbuk kari daging. 

Add in 2 ladles of meat curry powder.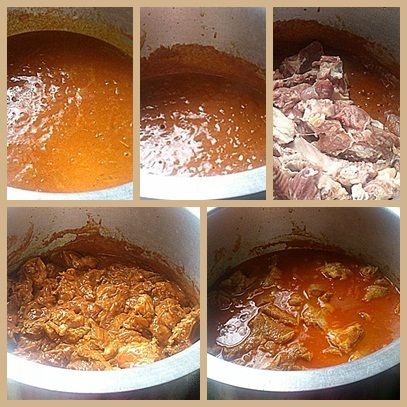 Sebatikan serbuk kari dengan air. 

Mix the curry powder and the water.

Bagi kari betul2 masak . 

Let the curry be well cooked.

Masukkan daging. 

Add in the mutton.

Sebatikan daging dengan rempah yang telah masak itu. Biar sebentar hingga keluar air daging.

Blend well the mutton and the cooked curry paste. Let it be for awhile til it brings out the juice from the meat.

Tambahkan air dan masak hingga daging empuk. 

Add in some water and cook until the mutton becomes tender.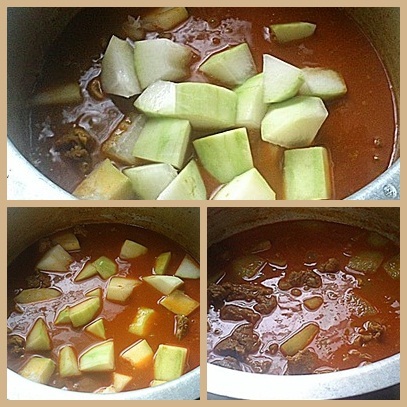 Masukkan hirisan labu air. 

Add in the slices of bottle gourd.

Tambah sedikit air dan masak hingga labu empuk. 

Add in a bit more water and cook further til the gourd becomes tender.

Masukkan garam secukup rasa. 

Add in salt to taste.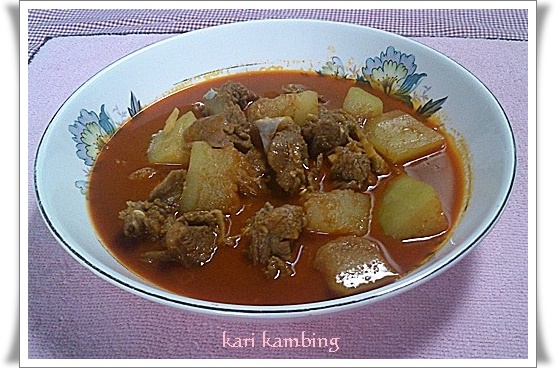 Alhamdulillah…….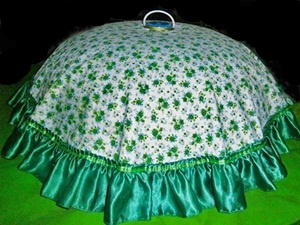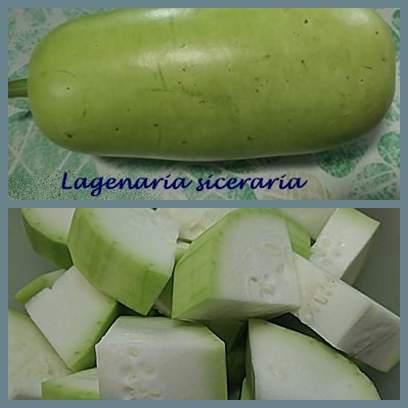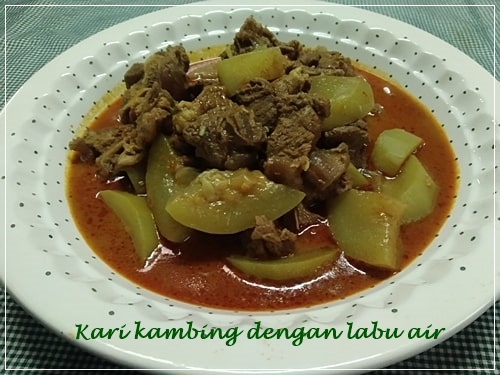 الحمد للَّه
Ni baru betul Kari Kambing Dengan Labu Air. 😅🤲