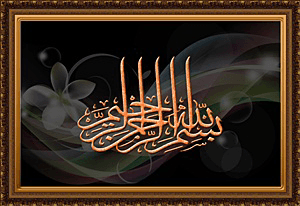 Separuh paha kambing dah buat korma, jadinya separuh lagi tu serah kat angah untuk bab bakar membakar(dia minat kerja2 macam ni). Lega….. Alhamdulillah. Part of the goat's leg was used to make mutton korma, so the remainder was left to angah to roast (cause he likes this kind of chores). What a relief …… Alhamdulillah.
Kambing diperap dengan 1/2 peket kecil serbuk cili, serbuk lada hitam, 4 ct jintan manis (ditumbuk ), 5 biji bawang besar, 1 labu bawang putih (bwg.besar & bwg.putih dimesin lumat), 6 ct. gula dan sedikit garam. Perap selama 5 jam. The mutton was marinated with 1/2 a small packet of chilly powder, black pepper powder, 4 tsp fennel seeds (pounded), 5 onions, 1 bulb of garlic (blend to a paste the onion & garlic), 6 tsp sugar and some salt. Marinate for approximately 5 hours.
Bakar dalam oven pada suhu 200°C selama 1 jam. Roast in an oven at 200°C for 1 hour.
Alhamdulillah…..