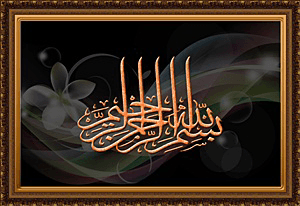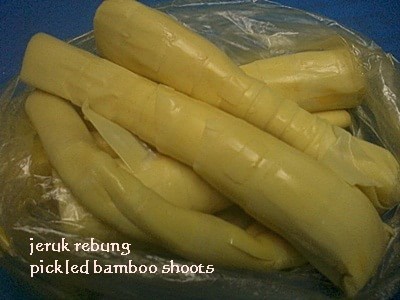 Rebung masam/jeruk rebung dari pasar malam. Fermented/pickled bamboo shoots bought from a night market.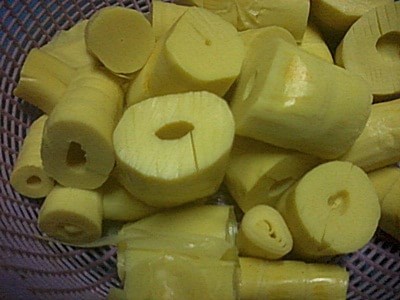 Kerat2kan rebung kepada hirisan sepanjang 1 1/2 inci dan kelar2 di kedua2 hujung. Cut up the bamboo shoots into 1 1/2 inci  pieces and make slits on both ends of each piece.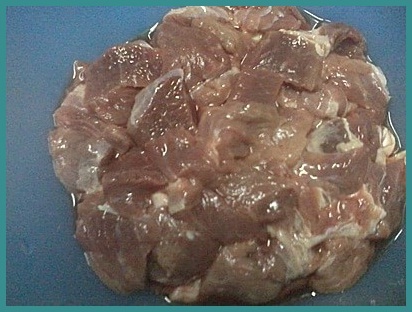 1/2 kilo(atau lebih) daging dipotong kecil. 1/2 kg (or more) meat (beef or mutton) cut into small pieces.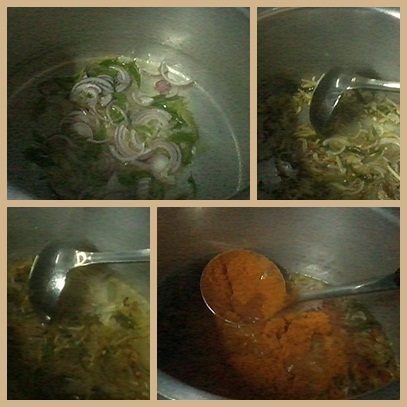 Tumis hirisan bawang besar dan 2 – 3 pelepah daun karupulai hingga bawang lembut.

Fry slices of 1 large onion and 2 – 3 fronds of curry leaves till the onion softened.

Masukkan hirisan bawang putih dan halia dan goreng hingga kuning keemasan. 

Add in slices of garlics and ginger and fry further til golden brown.

Masukkan air. 

Add in some water.

Masukkan 2 senduk rempah daging. 

Add in 2 ladles of meat curry powder.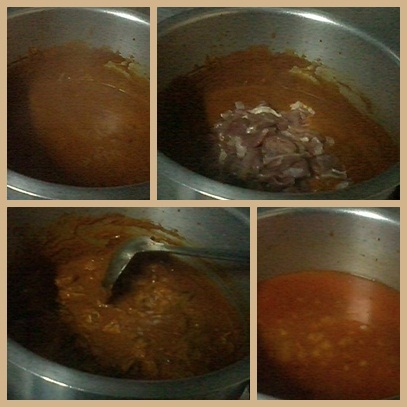 Kacau sebati dan biar hingga rempah betul2 masak (tambah air jika perlu).

Mix thoroughly and let the curry be cooked properly (add more water if required).

Masukkan daging. 

Add in the meat.

Kacau rata dan biarkan daging dan rempah sebati. 

Mix thoroughly and let the meat and curry blends well.

Masukkan santan dari 1/2 biji kelapa.Biar gulai mendidih dan daging empuk. 

Add in coconut milk of 1/2 a coconut.Let the curry boils and the meat becomes tender.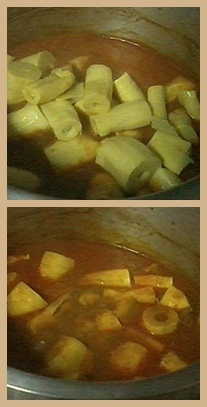 Masukkan hirisan rebung dan kacau rata.Masak lagi hingga rebung lembut. Add in slices of bamboo shoots and mix well.Cook further til the bamboo shoots softened.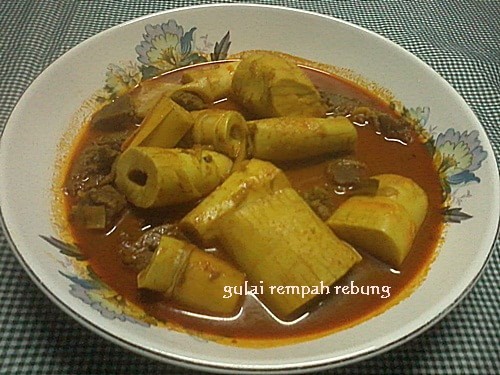 Alhamdulillah. It's ready to be taken with rice. Alhamdulillah. Sedia dimakan bersama nasi.