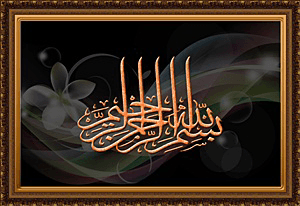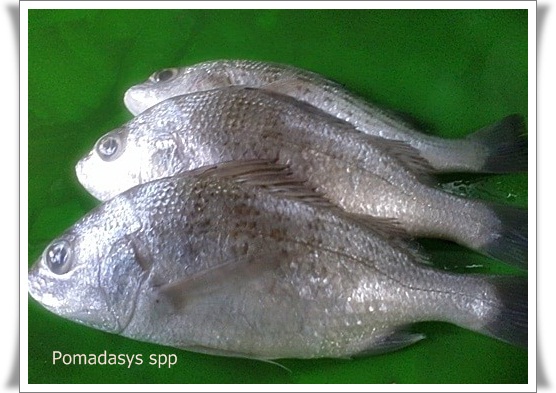 Sejenis ikan laut.Ikan gerut-gerut ni kecil saja.Tak tau la kot jenis species dia….Yang tau,ada jenis besar2.Kecik2 mcm.ni pun,harga RM 16 sekilo di Butterworth (28/06/2013). The grunter bream is a marine fish.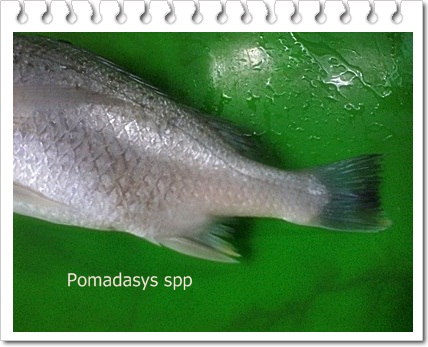 Tajam dan keras sirip ni. The anal fin has a spine that's hard and sharp.
More infos at SCDNR : Click here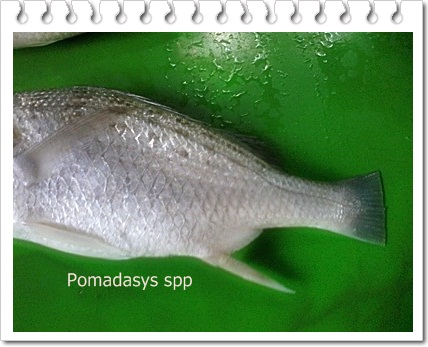 Guna gunting tak jadi.Cincang dgn.pisau besar,jawabnya.Penjual ikan selalunya pelawa nak siang ikan macam ni.Tapi kami tak mau sebab nak layan kucing kat rumah tu.Walaupun makan pellet, tapi naluri kucing katakan…Layan! zas….   You can't do away with a kitchen scissor to this hard spine.Have to chop off with a cleaver.The fishmonger usually offers to clean this sort of  fish to customers but we refused to it 'cos we wanted to entertain our cats back home. Even though they're taking their food pellets,they can't resist that natural instinct to eat the fish gills and the entrails.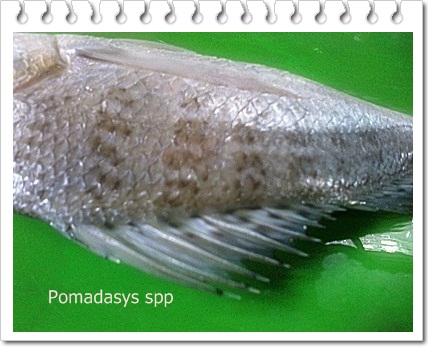 ﺳﺒﺣﺎﻥﷲ   Sirip belakang ni tajam dan keras tapi boleh dipotong dgn.gunting ja.  Was easily cut off with a kitchen scissor.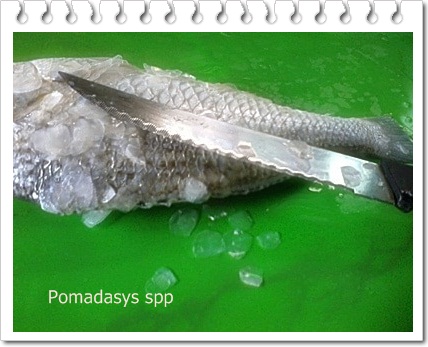 Sisik gerut-gerut yg. besar  dikikis dgn.pisau bergerigi ni. Scaling off the big scales was easily done with this serrated knife. Alhamdulillalh.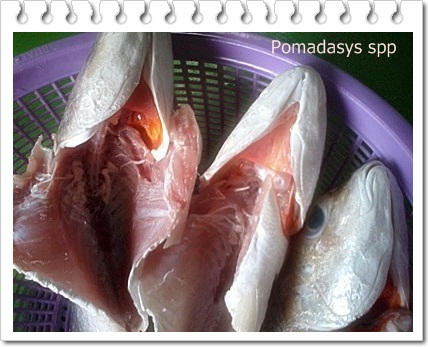 Gerut-gerut ni siap disiang tak sampai 1/2 jam.Penat la jugak utk.org.yg.kurang sihat ni. Cleaning the fish took less than 1/2 an hour.Yet it's taxing for someone who's not feeling so well.
–Ω–
Sekarang persiapan utk. memasak pulak….  
Now's the cooking time….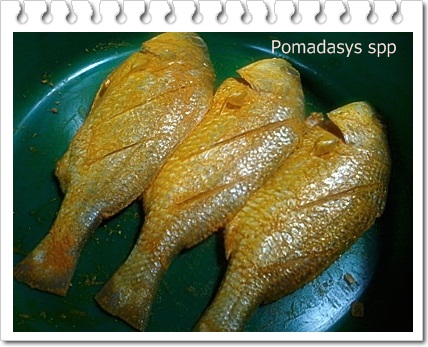 Ikan dikelar belakang dan dilumur garam kunyit. Goreng. Make about 2 slits on each side of  the fish. Rub them with some salt and a generous amount of turmeric powder. Deep  fry them on both sides till golden brown.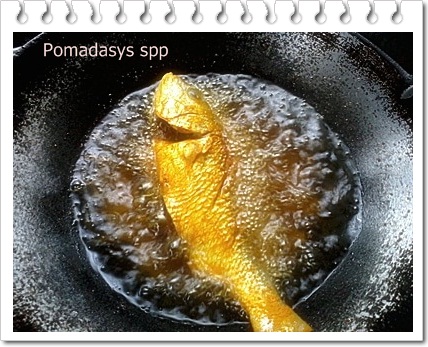 Sementara itu boleh siapkan kuah . Meanwhile we can prepare the gravy.
Kuahnya/gravy:
1 genggam cili kering (dibuang biji dan rendam dlm.air panas,dimesin halus) 

1 handful of dried chillies(blend)

bawang putih 

/ garlic

halia 

/ ginger

sos cili 

/ chilly sauce

sos tomato /

tomato sauce

sos tiram 

/ oyster sauce

bawang besar /

 onions ( sliced )

cili padi 

/ small chillies

garam dan gula secukup rasa 

/salt and sugar to taste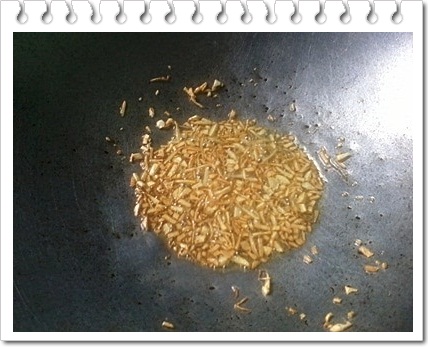 Tumis bawang putih dan halia hingga kuning keemasan.Tambah sedikit air supaya tak hangit. Fry the shredded garlic and ginger in a little oil till golden brown. Add a little water so as not to char them.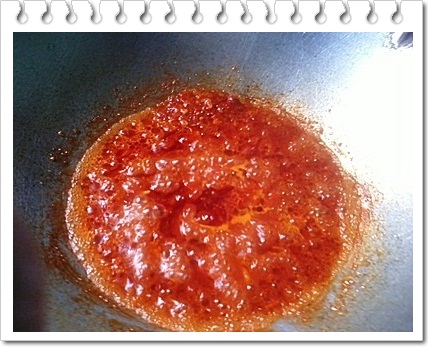 Masukkan cili mesin dan masak hingga cili garing dan wangi.Masukkan sedikit air.Masukkan ketiga2 sos,gula dan garam.Biarkan ia mendidih.Masukkan cili padi .Masukkan ikan goreng dan bawang besar.Kacau hingga bwg.lembut.Tutup api.  Add in the blended dried chillies.Fry the chillies till it emits aroma.Add in a little water,the 3 different sauces,salt and sugar.Let it boils.Add in the small chillies, the fried fish and the onions.Give a slight stir till the onions softened.Turn off the stove.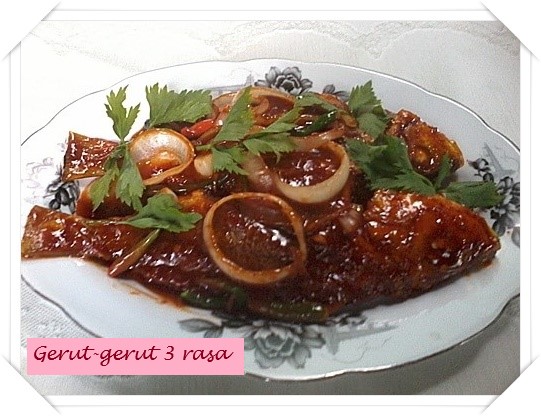 Alhamdulillah….. dah siap.