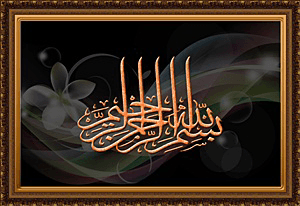 Bila dah ada cili cuka tu… teringin nak makan cucur udang kepal la pulak. When there's some vinaigrette chillies left …. thought of eating some prawn fritters.
Apa yang diperlukan/

What we need: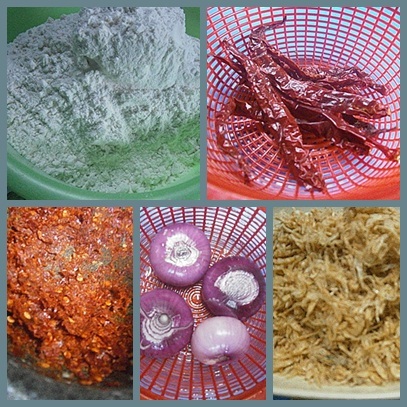 625 g tepung gandum . 

625 g wheat flour.

7 biji cili kering . 

7 dried chillies.

Cili kering ditumbuk kasar . 

Pound coarsely the dried chillies.

Bawang besar dibelah 4 dan hiris nipis.  

Onions to be quartered and slice finely.

125 g udang geragau .  125 g of small prawns (acetes)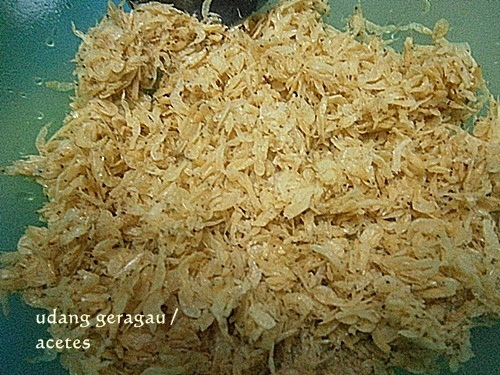 Rendam geragau sebentar (sebab geragau kering ni banyak pasir).Perlahan2 asingkan geragau,pasir akan mendap di bawah.Cuci bersih dan masukkan dalam sebuah bekas besar. Soak the acetes in water (these dried acetes contain some sand).Slowly separate the acetes,the sand particles will precipitate at the bottom.Wash clean and put them in a large mixing bowl.
Masukkan hirisan bawang besar.

Add in sliced onions.

Masukkan cili kering tumbuk yang telah dikacau dengan sedikit air dari 800 ml air yang disukat.

Add in the pounded dried chillies that have been stirred with some water from the 800 ml of water measured.

Masukkan sedikit demi sedikit tepung dan kacau perlahan2.

Slowly and partially fold in flour.

Kaup dan kacau hingga habis kesemua tepung.

Fold in and mix lightly till all the flour are finished.
Perlahan2 kaup dengan hujung jari bancuhan tepung di permukaan sahaja supaya udara dapat terperangkap dalam cucur dan cucur lebih ringan dan berrongga. Goreng dalam minyak yang banyak(bahan2 lain biar lebih dari tepung supaya bancuhan tidak padat). Slowly scoop the surface of the batter with our fingertips so as much air will be trapped making the fritters light and spongy.Deep fry the fritters(let other ingredients exceed the flour so the batter will not be compact).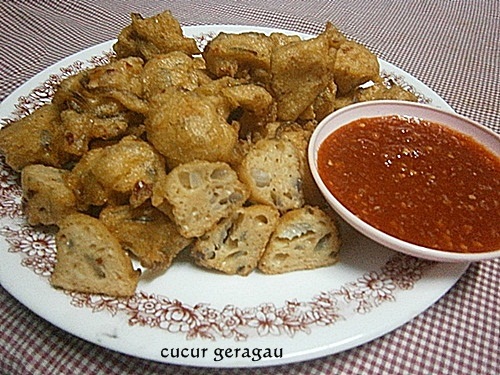 Alhamdulillah… it's ready. Alhamdulillah… dah siap.