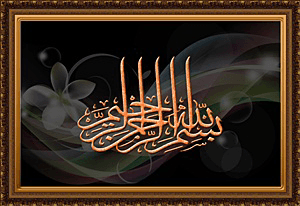 Ikan sembilang /semilang
Kaki pancing di pantai mudah mendapat ikan sembilang kerana ikan sembilang mendiami kawasan laut berdekatan pantai.Mulai pukul 6 petang lebihkurang, ikan sembilang akan merapati gigi air untuk memakan cacing laut. Oleh itu dinasihatkan supaya tidak menghampiri gigi air laut pada waktu malam kerana  ditakuti disengat sembilang.Sembilang mempunyai 3 duri yang berbisa di badannya iaitu 2 di sisi badan dan 1 di atas belakang.Ada pula jenis sembilang yang mendiami di celahan batu, iaitu sembilang karang.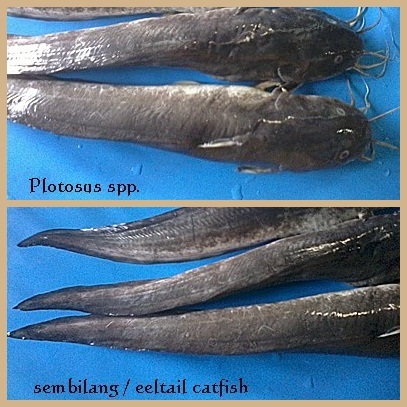 To shore anglers,the eeltail catfish is one of the fishes that are commonly caught by them.This is because the eeltail catfish dwell along the shore.By late evenings the eeltail catfish will come close to the water's edge to prey on seaworms. Hence it is advisable not to go to the water's edge at night to avoid being stung by the eeltail catfish.The eeltail catfish has normally 3 venomous spines on its body,i.e 2 side spines and 1 dorsal spine.There's another type of eeltail catfish that dwell among rocks.
Badan ikan sembilang tirus macam belut. The body of an eeltail catfish is like an eel.
 — ♦ —
Sembilang goreng bercili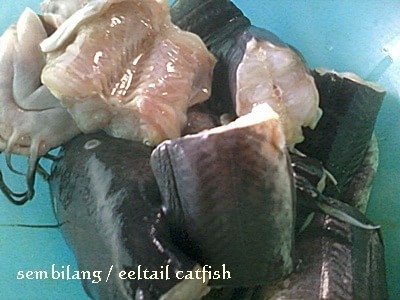 Katam ikan sembilang yang telah dibersihkan. Cut up the catfish that has been cleaned.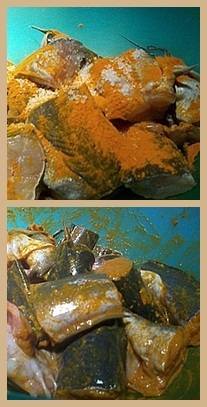 Gaul dengan garam kunyit dan goreng. Coat the slices of fish with salt and turmeric powder.Fry the fish in hot oil.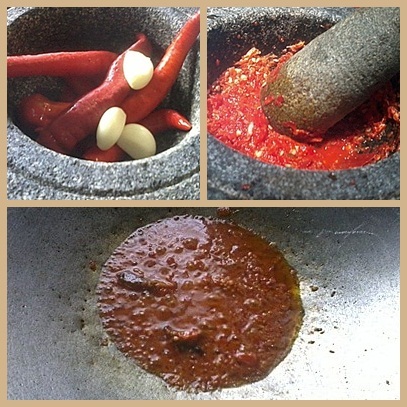 Sementara itu tumbuk kasar cili dan bawang putih. 

Meanwhile pound coarsely chillies and garlic.

Panaskan minyak dalam kuali dan goreng cili hingga wangi. Masukkan sedikit air dan asam keping (2 keping).Masukkan ikan yang telah digoreng dan kacau rata. 

Heat some oil in a wok and fry the pounded chillies till aromatic.Add in some water and 2 pieces of Malabar tamarind. Add in the fried fish 

and stir well.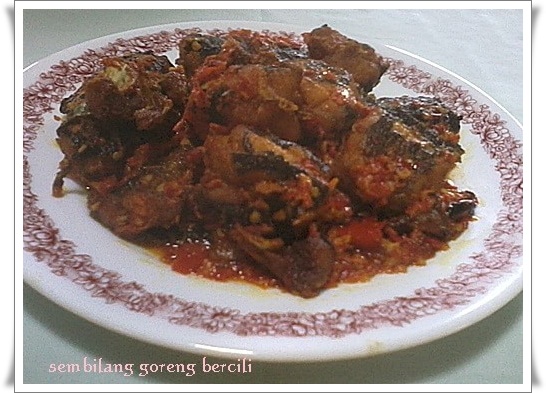 Alhamdulillah siap.Masakan disediakan oleh ketua keluarga(suami). Alhamdulillah it's ready. The dish was prepared by the head of the family(hubby).Fried catfish in chilly paste.