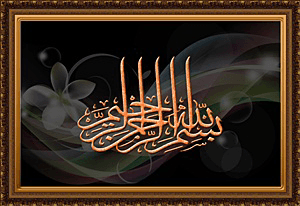 Keledek putih boleh digukan dengan bayam,tak kira bayam putih atau bayam merah. White sweet potato goes well with white spinach or red spinach .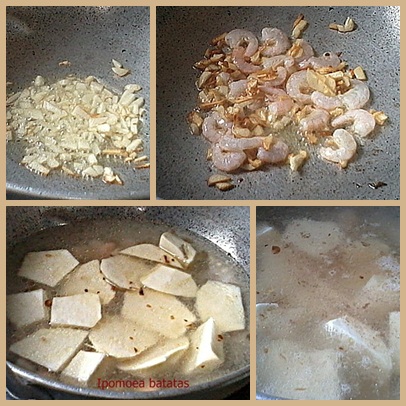 Tumis 3 ulas bawang putih yg telah dicincang hingga kuning keemasan. 

Fry 3 cloves of chopped garlic until golden brown.

Masukkan sedikit udang segar dan goreng hingga masak. 

Add in some fresh prawns and fry further until the prawns are cooked.

Tuangkan air dan hirisan ubi keledek. 

Pour in some water together with the slices of the sweet potato.

Masukkan sedikit serbuk lada hitam. 

Dash in some black pepper powder.

Rebus hingga ubi empuk. Masukkan garam secukup rasa.

Boil until the sweet potato softened. Add in salt to taste.

Bila ubi telah empuk, masukkan tangkai bayam dulu. 

When the sweet potato softens, add in the spinach stalks first.

Kemudian masukkan daun bayam. 

Then add in the spinach leaves.

Padamkan api tapi jangan tutup periuk, biarkan masakan sejuk dan sayur tak akan bertukar warna. 

Turn off the fire but don't cover the pot, let the dish cools down and the vegge remains green.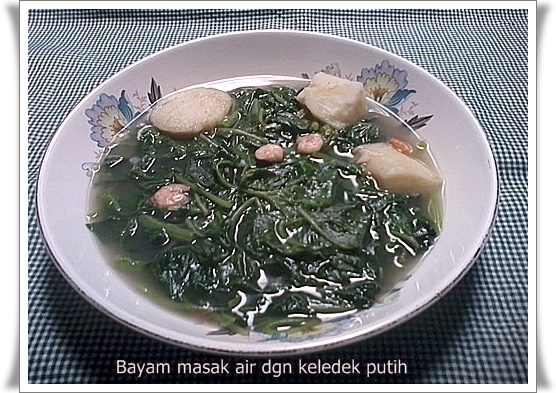 Alhamdulillah…..