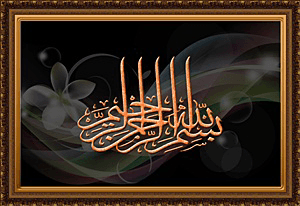 Biskut Almond London/ Almond London Cookies
Bahan2/Ingredients
125 g  majerin/mentega/

125 g  margarine/butter

75 g  gula aising /

75 g  icing sugar

1 biji kuning telur /

1 egg yolk (optional -can do without)

225 g  tepung gandum /

225 g  wheat flour

300 g  badam panggang berkulit (digoreng tanpa minyak) / 300 g  whole toasted almonds with skin
450 g  cokelat dicairkan /

450 g  chocolate, melted

cawan kertas kecil /

small paper cups

Almond nibs/chocolate rice untuk hiasan /

for decorations
Cara membuatnya / Method
Pukul mentega dengan gula hingga kembang /

Cream the butter and sugar till light and fluffy.

Masukkan kuning telur /

Beat in the egg yolk

Masukkan tepung dan gaul rata /

Add in the flour and mix well

Uli adunan hingga lembut /

Knead the mixture to a soft dough

Ambil adunan sebesar guli dan salut pada sebiji badam /

Take a marble-size dough and wrap around an almond

Buat bentuk bujur /

Make it into an oval shape

Minyakkan loyang dan aturkan biskut /

Grease a baking tray and arrange the cookies on it

Bakar dalam oven(api bawah saja)  pada suhu 140 darjah Celsius selama 25 minit /

Bake in a preheated oven(bottom heat only) of 140 degree Celsius for 25 minutes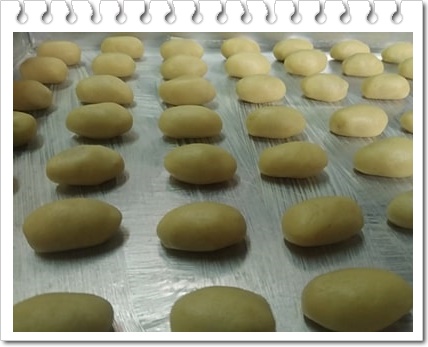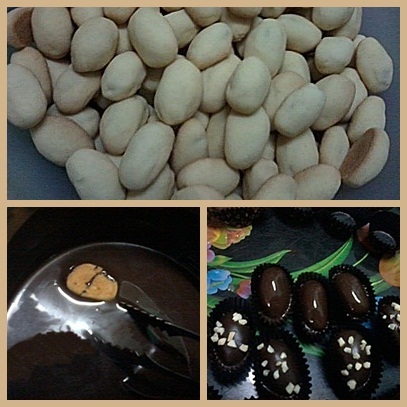 Salutan cokelat boleh dilakukan pada hari lain. 

Coating for the cookies can be done on a different day.

Masukkan biskut dengan bahagian atasnya dulu ke dalam cokelat cair .

 Dip the cookie with its top part first into the melted chocolate.

Dengan menggunakan pengepit bergerigi kalihkan biskut dan angkat . 

By using a pair of crocodile tongs give the cookie a flip and bring it out.

Letakkan biskut yg.disalut ke dalam cawan kertas kecil dan taburkan segera dengan almond nibs.

Place the coated cookie in a small paper cup and decorate immediately with almond nibs.

Ketepikan dan biar cokelat beku sebelum disimpan dalam bekas . 

Keep aside until the chocolate hardens before storing.
          ﺍﻟﺤﻤﺪ ﻟﻠﻪ