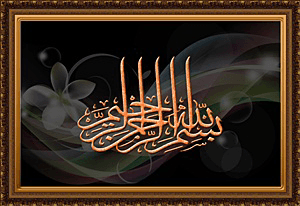 Duduk di Pulau Pinang ni kalau tak kena pengaruh masakan mamak/mami sajalah…….
Nak masak ayam,teringat yang goreng rempah tu pulak …..
Ayam goreng rempah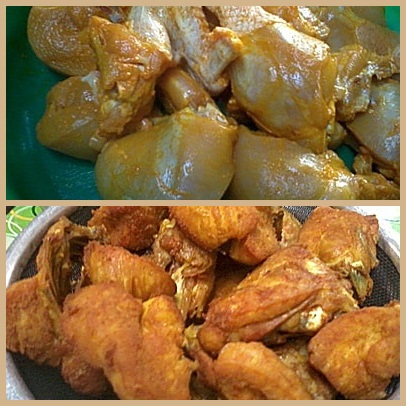 1 ekor ayam dipotong kecil2. 

Cut into small pieces 1  whole chicken.

Lumur garam kunyit dan goreng hingga masak. 

Coat with salt and turmeric powder and fry until thoroughly cooked.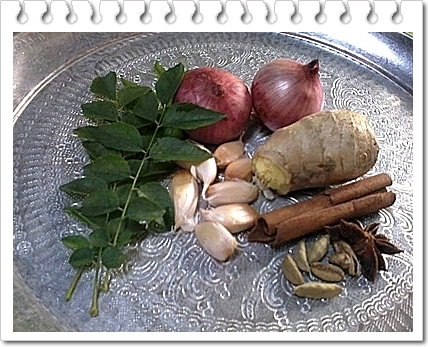 Sediakan bahan2 utk ditumis. Get ready ingredients to be fried.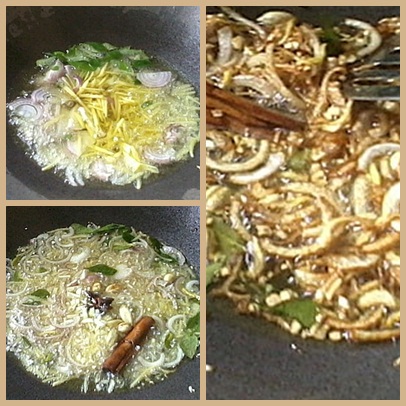 Dalam minyak yang banyak, tumis bawang besar, halia dan daun kari hingga lembut.

In a generous amount of cooking oil, fry slices of onions, ginger and curry bush leaves until softened.

Masukkan hirisan bawang putih dan rempah ratus. 

Add in chopped garlic and spices.

Goreng hingga kuning keemasan. 

Fry until golden brown.

Masukkan air. 

Add in some water.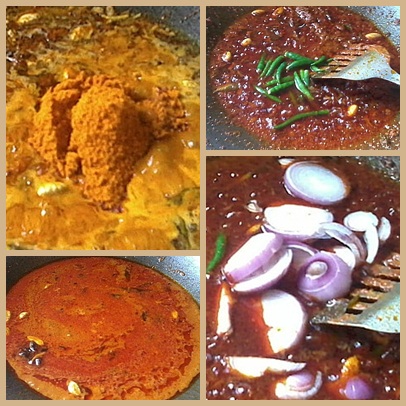 Masukkan 1 senduk gulai serbuk rempah daging. 

Add in 1 ladle of meat curry powder.

Tambah air dan masak hingga rempah masak dan garing. 

Add in some more water and let the curry cooked through and crisp in texture.

Masukkan cili padi dan biar sebentar. 

Add in small chillies and let it be for awhile.

Masukkan hirisan bawang besar dan kacau. 

Add in slices of onions and stir.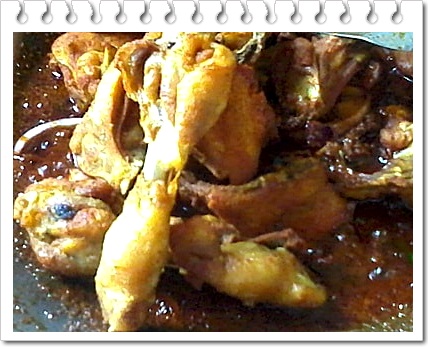 Masukkan ayam goreng, kacau rata2 dan masukkan garam secukup rasa. Add in fried chicken, give it a stir and add salt to taste.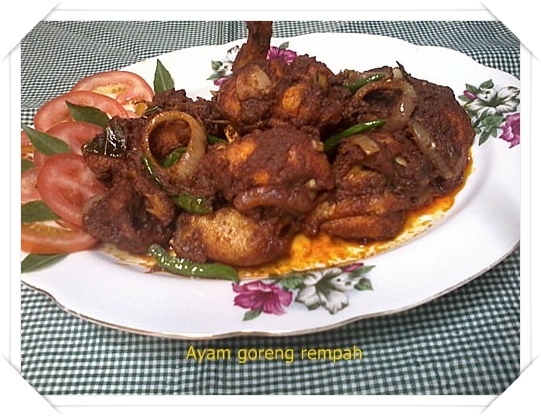 Alhamdulillah….. nak makan dengan nasi,pulut pun boleh, dengan roti pun jadi. To be taken with rice, glutinous rice or bread.