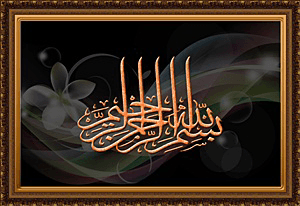 Dah beli ikan di market, dok pikiaq nak masak apa ni……..Bought 2 groupers from the wet market. 
Teringat masakan arwah emak, asam pedas tumis kerapu. Baguih jugak….. Remembered a dish that late mom used to cook with groupers. Fine….
Bunga kantan.cenenghom/kesum(ada sikit, boleh la) dan serai pun ada.  الحمد لله
 Torch gingers, Vietnam mints and lemongrass are available in the backyard(shld. we say the kitchen garden). الحمد لله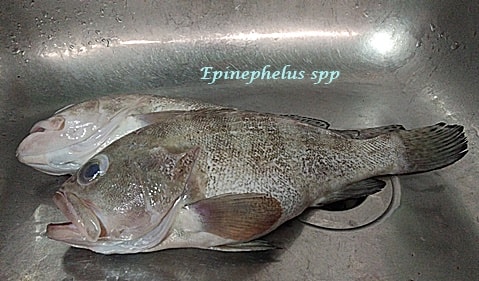 Siang dan cuci bersih ikan dan katam ikut suka. Clean and cut the fish into desired pieces.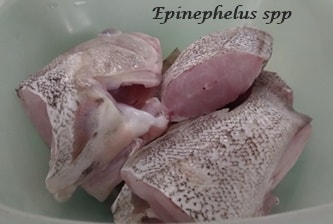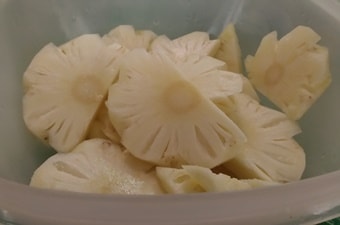 Sebiji nenas dibelah dua dan dihiris nipis. One whole pineapple halved and sliced thinly.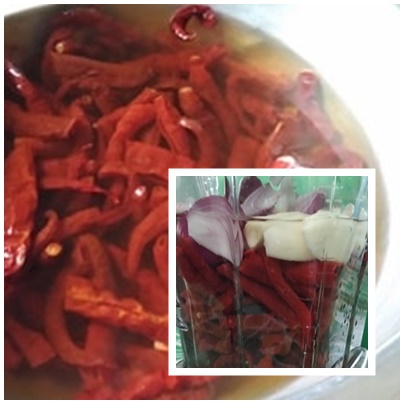 1 genggam cili kering, dibuang biji,dipotong pendek dan direbus hingga lembut. Blend cili kering dengan 1 biji bawang besar dan 5 ulas bawang putih. Remove seeds from 1 handful of dried chillies, cut them up and boil until soft. Blend the chillies with 1 onion and 5 pips of garlic to a fine paste.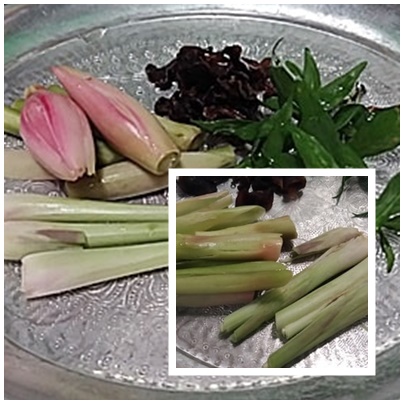 2 kuntum bunga kantan, 3 btg.serai , daun cenenghom dan segenggam asam keping (ikut masam). 

2 stalks of torch gingers, 3 stalks of lemongrass, some vietnam mints and a handful of malabar tamarind (depends on how sour we need our dish to be).

Titikkan serai dan batang bunga kantan. 

Crush the lemongrass and the stalks of the torch gingers.
Panaskan 1 cwn minyak masak. 

Heat 1 cup of cooking oil.

Masukkan cili yg telah dimesin. Tumis hingga cili garing dan wangi.  

Pour in the blended chillies. Fry the paste until thoroughly cooked and aromatic.

Masukkan serai dan btg. bunga kantan. 

Add in the crushed lemongrass and torch ginger stalks.

Masukkan hirisan nenas dan asam keping. 

Add in slices of the pineapple and malabar tamarind.

Tambah air dan masak hingga nenas lembut. 

Add in more water and cook until the pineapple slices are softened.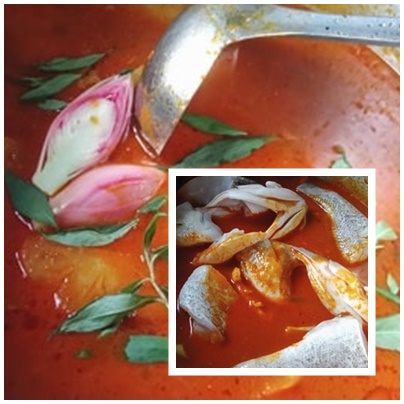 Bila nenas dah lembut, masukkan belahan bunga kantan dan daun kesum.Biar bunga kantan lembut sikit. 

Once the pineapple softens, add in the halved torch ginger and the vietnam mints. Let the torch gingers soften a little.
Akhir sekali masukkan ikan dan biar sampai masak. Masukkan garam secukup rasa. Tutup api dan boleh dihidang. 

Finally add in the fish and let it cook through. Add in salt to taste.Turn off the stove.Ready to serve.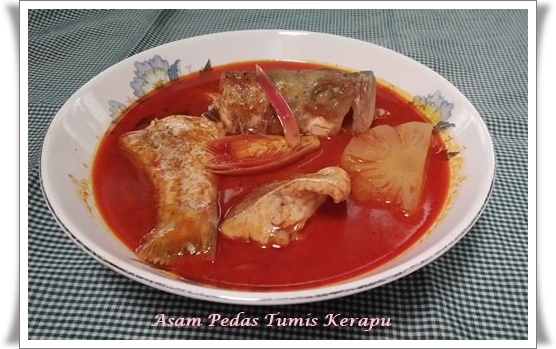 الحمد لله