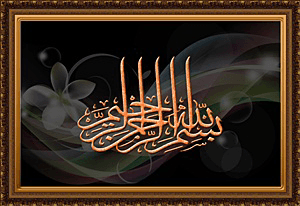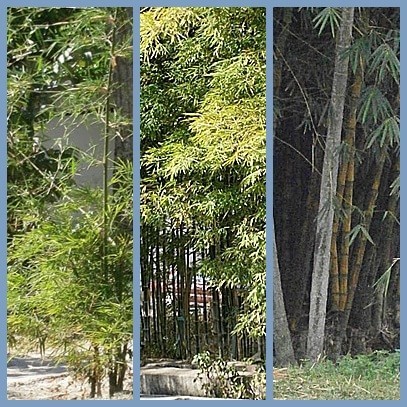 Pokok buluh,hidupnya dalam rumpun.Rona hijau dan kuning.Saiznya dari yang kecil hingga yang besar2 dan pokok buluh banyak gunanya.Ada rumah orang2 dulu diperbuat dari buluh.Pelantar2 di tepi sungai dibuat dari buluh juga. Bamboos grow in clusters.Its colour varies from green to yellow.The sizes also differ.Bamboos serve many purposes.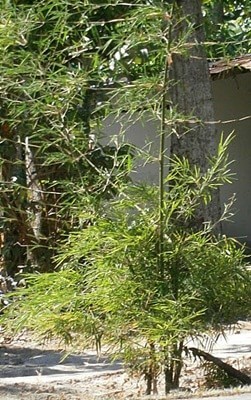 Buluh2 yang lebih halus dari ini diguna sebagai hiasan di rumah2 taman.Cantik, subhanallah.Smaller sizes than these are used in landscaping.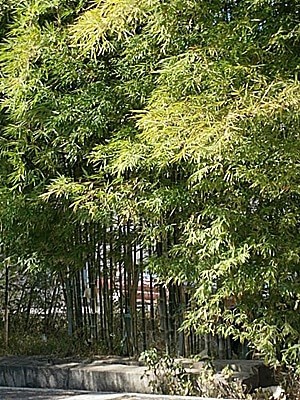 Buluh2 saiz ni diguna untuk memancing secara lama.The bamboos of this size are used as fishing rods in old times.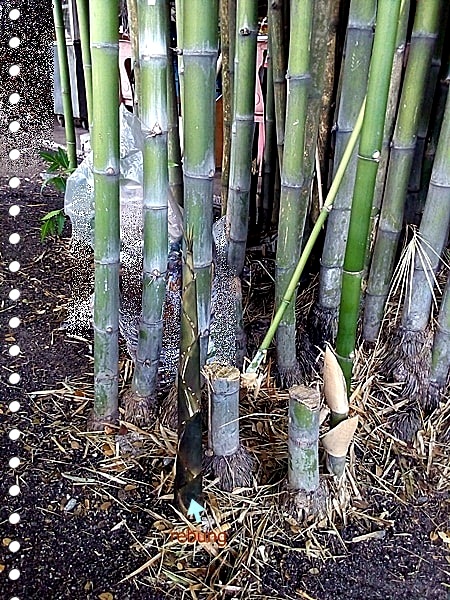 Ini jenis buluh tumpat. Di dalamnya kurang berongga. These are a type of compact bamboos.It is less hollow within.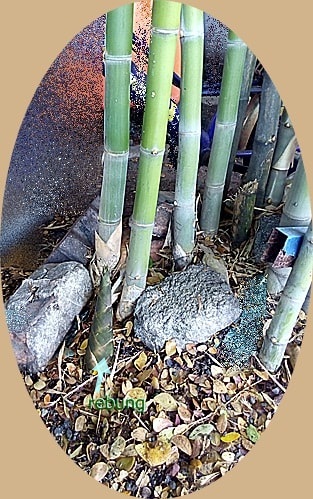 Rebung buluh tumpat. A bamboo shoot of the compact bamboo.
— & —
Rebung adalah salah satu dari faedah yang didapati dari pohon buluh.Rebung merupakan makanan yang enak dinikmati oleh kebanyakan orang di merata tempat di dunia ini.The bamboo shoot seems to be one of the benefits that we obtain from the bamboo.It is a delicacy to many people around the world.
Kerabu rebung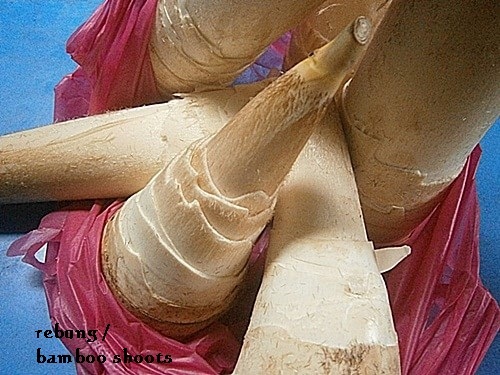 2 batang rebung (kalau guna rebung buluh beting,boleh dihiris menjurai) dibuang miang dan dibersihkan.Remove the fine sharp hairs on the bamboo shoots (2 bamboo shoots) and wash clean.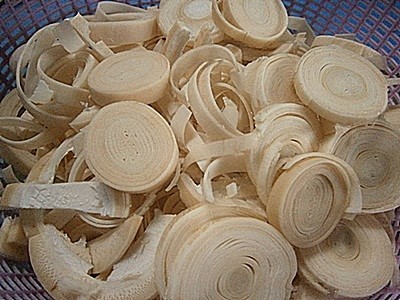 Potong setebal kurang sikit dari 1 sm.Cut into pieces of less than 1 cm.thick.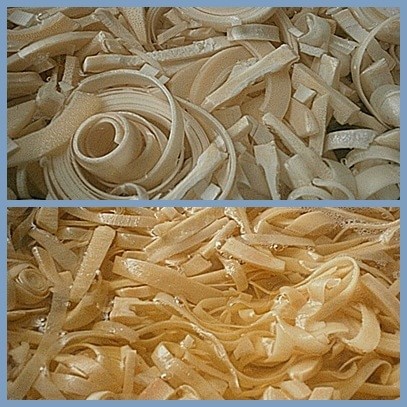 Rebus dalam air secukupnya hingga lembut.Campur sedikit garam.Tapis rebung yang direbus tadi dan rebus kali kedua (untuk mempastikan hilang rasa pahit rebung).Boil them in sufficient amount of water until tender.Add a little salt.Strain the boiled bamboo shoots in a colander and boil them for a second time (to ensure that the bitterness of the bamboo shoots is got rid off).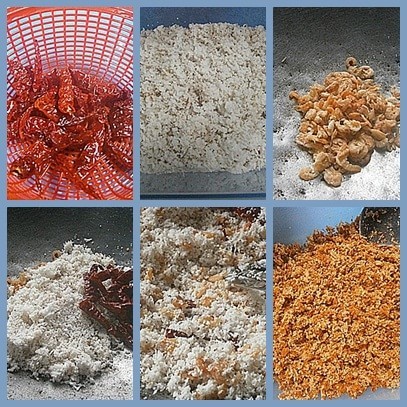 Kerat2kan 7 – 9 biji cili kering dan basuh.

Cut up 7 – 9 dried chillies and wash them.

1 biji kelapa diparut. 

1 whole coconut grated.

1 genggam udang kering. 

1 handful of dried shrimps.

Di dalam kuali goreng udang kering,kelapa dan cili kering dengan api yang kecil sekali.Goreng tanpa minyak.

In a wok fry the dried shrimps,grated coconut and dried chillies(no oil needed).Fry on the smallest fire.

Goreng hingga rona kuning keemasan.Kemudian ditumbuk bersama air asam jawa atau boleh dikisar.

Fry until golden brown.Then pound them with some tamarind juice or mesh them in a food chopper.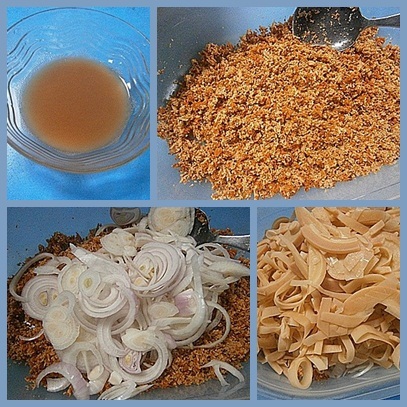 Sedikit air asam jawa.(Boleh juga guna santan pekat,tapi dengan santan kerabu tak tahan lama). 

A little amount of tamarind juice(can be substituted with thick coconut milk,but with coconut milk the dish can turn soggy easily).

Kelapa,udang kering dan cili kering yang dilumatkan. 

The ground fried grated coconut,dried chillies and prawns.

Hirisan 2 – 3 biji bawang besar (bergantung pada saiz). 

Slices of  2 – 3 onions(depends on the size).

Masukkan rebung rebus.Gaul rata dan masukkan garam secukup rasa. 

Add in the boiled bamboo shoots.Mix thoroughly and add salt to taste.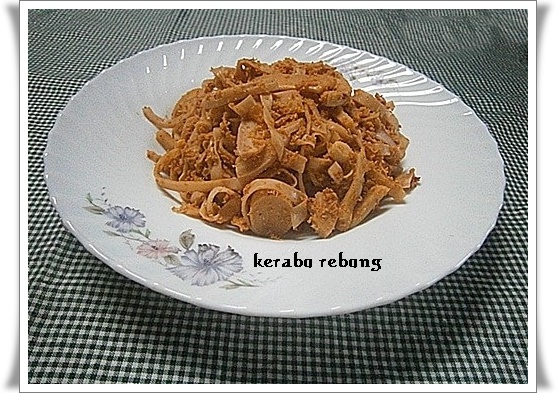 Alhamdulillah….. ready to be served. (The health benefits of bamboo shoots). Alhamdulillah….. siap untuk dihidang.(Antara khasiat2 rebung ialah menurunkan berat badan,mengawal kolesterol tidak baik dalam badan,mencegah kanser dan beberapa lagi masalah)