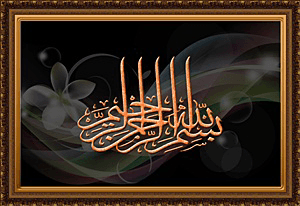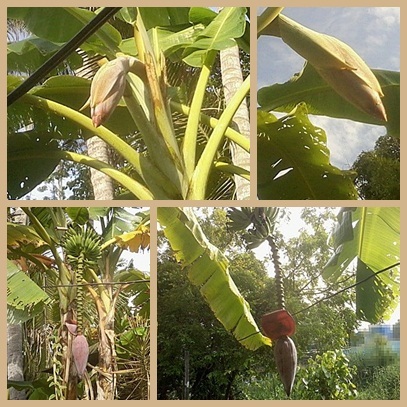 Jantung pisang awak yang mula cambah.Ronanya masih cerah. 

A  banana inflorescence sprouting  It is light in colour.

Jantung pisang boleh diambil bila tiada lagi pisang yang cambah di tangkai pisang.(Rona jantung dah menjadi gelap). 

The banana inflorescence can be cut off when the stalk has stopped producing anymore bananas.(The colour has turned darker).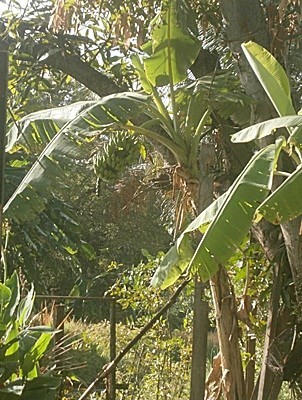 Pokok pisang awak.Bila buah dah besar,kena tongkat pokok supaya batang pokok tak patah. When the fruits are almost fully in size,we've got to support the stem with a strong pole to ensure the stem won't break.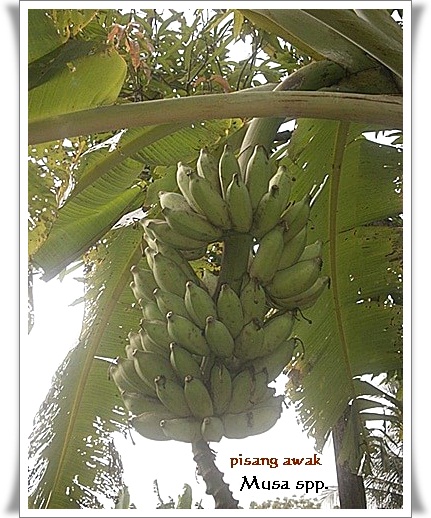 Terdapat lebihkurang 1,000 jenis pisang di seluruh dunia. There are about 1,000 varieties of bananas throughout the whole world.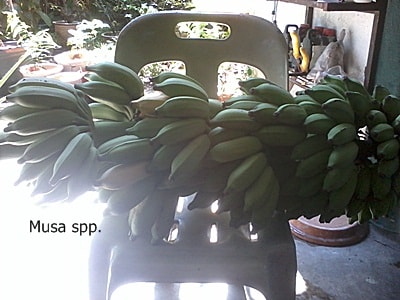 Bila dah ada sebiji dua pisang yang dah masak di pokok, boleh la ditebang pokok dan dicantas tandannya. Alhamdulillah. When there're already one or two ripe bananas on the banana plant, then it's time to fell the tree and bring down the bananas.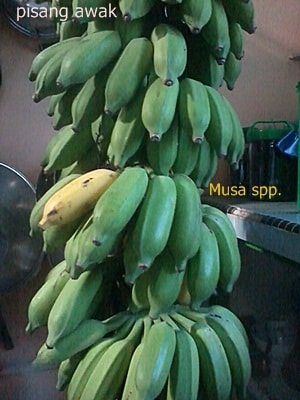 Mesti digantung tandan pisang ini dan dibiarkan buahnya masak. Jika dibiar di atas lantai simen, buah akan lambat masak disebabkan lantai yang sejuk. The whole bunch of bananas must be hung and let the fruits ripened. It must not be left on the floor, cos the cold nature of the floor will delay the ripening.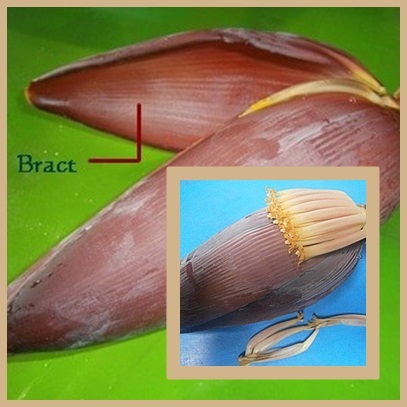 Jantung pisang atau bunga pisang boleh diolah dalam beberapa masakan. Banana buds , the banana blooms or the " banana heart" can be cooked in several kinds of dishes.
ﺳﺒﺣﺎﻥﷲ bunga pisang teratur dengan kemas di bawah lapisan setiap kelopak jantung. Bila jantung pisang dipetik,ini bermakna bunga-bunga telah berhenti menghasilkan buah. ﺳﺒﺣﺎﻥﷲ the flowers are neatly arranged under each bract. When the banana inflorescence is cut off , it means that the flowers have stopped producing fruits.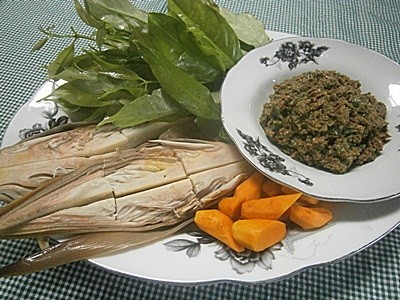 Jantung pisang yang direbus dijadikan ulam. The boiled ' banana heart ' is deliciously taken with chilly dip(sambal belacan) and rice.
---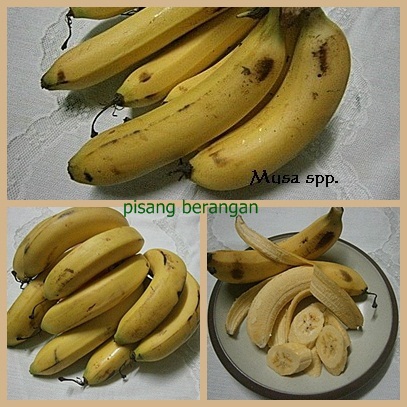 Pisang berangan. Isi kuning dan lembut. Another species of the banana with soft yellowish pulp.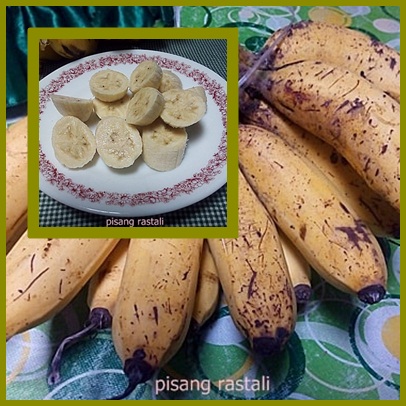 Pisang rastali, rasanya kelat dan yang masak ranum kuranglah kelatnya. Isinya putih atau warna krim pucat. Ada species yang mempunyai banyak bintik2 hitam di kulitnya. Rasa kelat tu memang ciri pisang ni. Sorang sahabat dari Kelantan bagi tau di tempat dia mereka panggil pisang kelat keling. Disebut keling mungkin ada kaitan dengan India. Di Pulau Pinang ni kalau di kedai2 mamak samada kedai makan atau kedai yang menjual surat khabar dan peruncitan akan terdapat pisang rastali (digantung setandan) untuk dijual dan rastali berbintik2 hitam menjadi pilihan.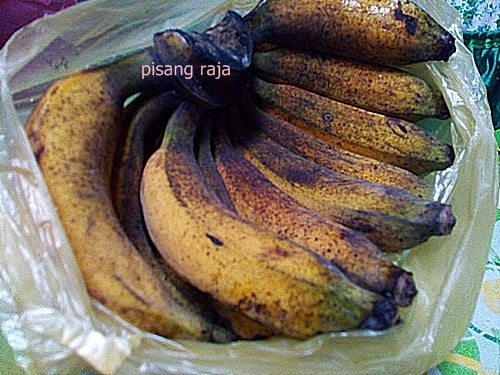 Pisang raja, isi dia kuning. Sering dibuat pisang goreng atau dibuat serawa (bubur) pisang, juga dicampur dalam bubur asyura.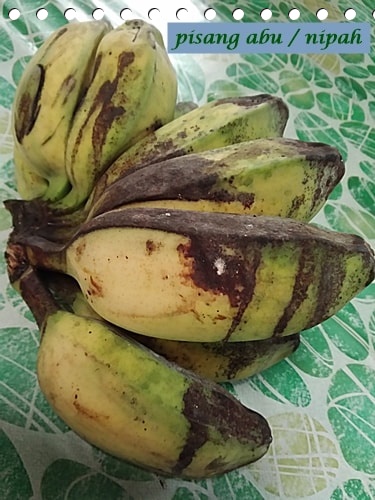 Pisang abu/nipah ni kerapnya digoreng.
---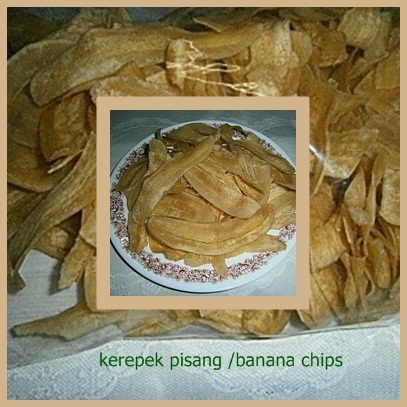 Kerepek pisang diketahui dibuat daripada pisang tua yg.belum masak.Pisang yang sering digunakan ialah pisang tanduk. Ada yg. bersira.Yang ini bergaram.Memang asyik bila dah mula makan. Banana chips are known to be made of matured but unripe bananas. There're the sugar glazed banana chips.What we have here are  the salted type .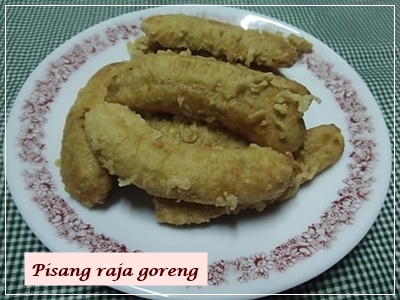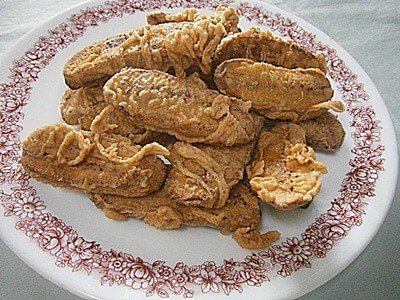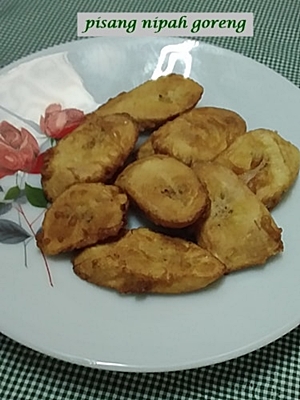 Pisang goreng . Banana fritters.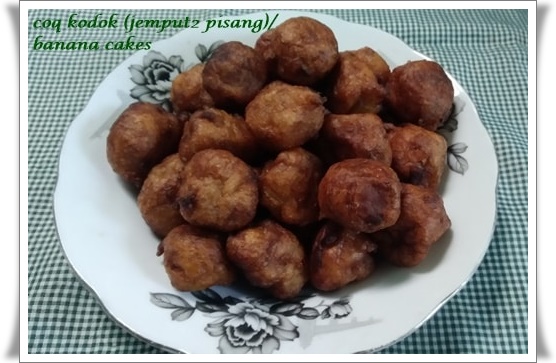 Coq kodok /Jemput2 pisang. Fried mashed banana cakes
–♣–