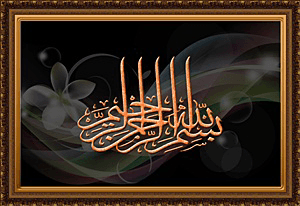 Pokok2 pisang awak di belakang rumah tu ada 2 jenis. Satu jenis tak ada biji (ada pun sebiji dua sj) dan sejenis lagi banyak sangat la bijinya. Nak kena ganti la pokok2 yg banyak biji tu dengan pokok2 yang tiada biji. There are 2 types of  this particular banana growing in our home backyard. One without seeds and the other with plenty of seeds.Ought to replace the plants with plenty of seeds with those without seeds.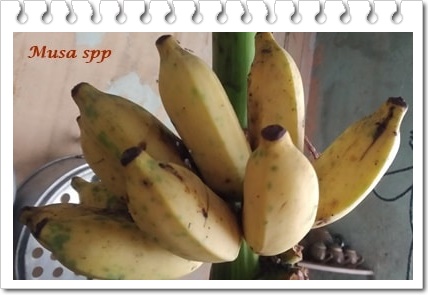 Tak tau la pulak nak kenal antara pisang yg bnyk biji dengan yg tiada biji. Ada orang yg tahu tengok. Don't know how to differentiate between those without seeds from those with seeds. However there are people who know how to see these features.
Nak buat coq kodok/jemput2 pisang kena buat satu kerja lebih sikit, buang biji. To prepare the fried mashed banana cakes, we have to put in an extra job,i.e to remove seeds.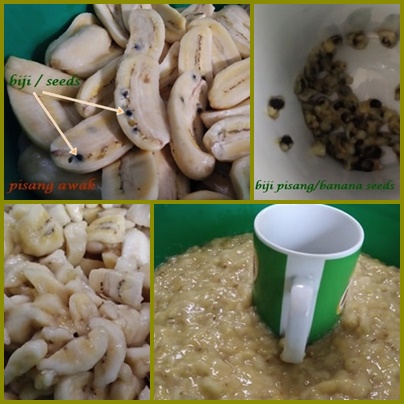 Buang biji dari pisang yang ada biji(sesetengah tak ada biji).

Remove seeds from those bananas with seeds (there are some without seeds)

Lenyek pisang (lebihkurang 4 sikat) hingga lumat (guna kole saja). 

Mash the bananas (appprox. 4 combs) until fine (used a mug as a masher).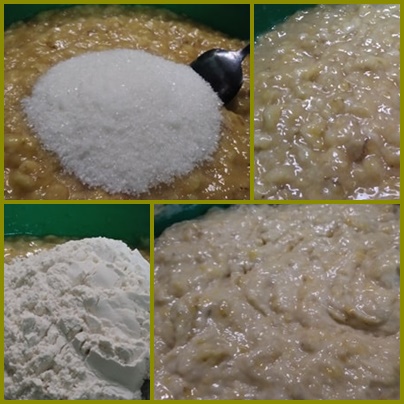 Masukkan 2 cwn gula dan 1/2 ct garam. 

Add in 2 cups of sugar and 1/2 tsp of salt.

Kacau sebati . 

Mix thoroughly.

Masukkan 4 cwn tepung gandum. 

Add in 4 cups of wheat flour.

Kacau sebati. 

Mix thoroughly.
Jemput2 dan goreng dalam minyak panas yg banyak.Goreng hingga perang keemasan. Pinch a small amount of the mixture into a small ball and drop slowly into the hot deep frying oil. Fry until golden brown.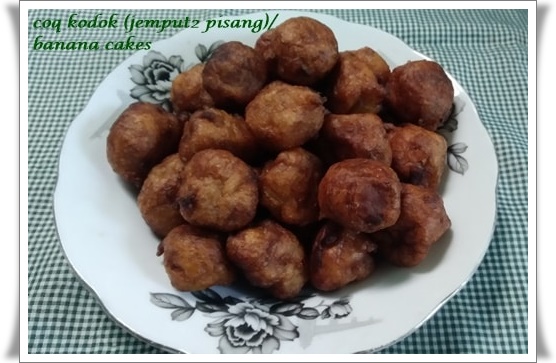 Jemput-jemput pisang. Mashed banana cakes
         الحمد لله