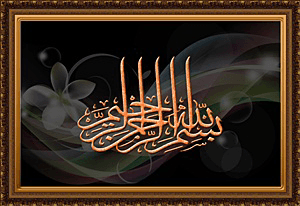 4 Romadhon 1435H
Durian dikatakan buah yang memanaskan badan. Buat bubur tak pa kot….ayaq (air) kena minum banyak2 masa selepas berbuka posa. The durian is said to cause heat to the body.Eating it during breaking fast in Romadhon,means that we have to consume plenty of water after that.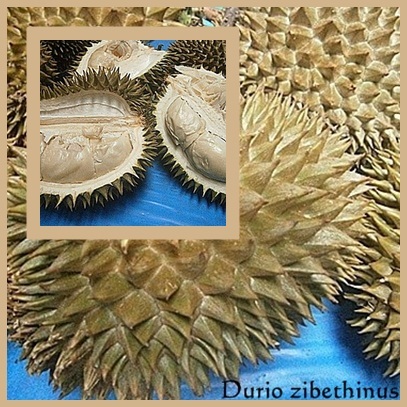 Untuk buat bubur durian/

Preparing the durian porridge.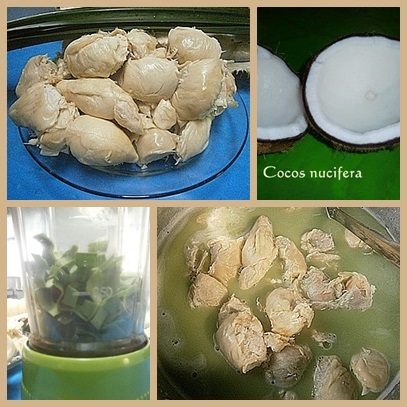 Sediakan ulas2 durian.

Get ready the durian pulps.

1 kole santan pekat dari sebiji kelapa. 1.5 L santan cair. 

1 mug of thick coconut milk from 1 coconut. 1.5L of thin coconut milk.

Mesin 5 daun pandan yg dihiris dengan sedikit dari santan cair (mesin 2x). 

Blend 5 screwpine leaves (cut up) with some thin coconut milk (blend twice).

Masukkan santan cair berpandan dan isi durian ke dalam periuk dan rebus hingga durian tertanggal dari biji.

Put in a cooking pot the thin coconut milk blended with screwpine leaves and the durian pulps.Boil til the pulps get separated from the seeds.

Masukkan 1 1/2 senduk gula.Kacau dan masukkan bancuhan 3 camca tepung gandum dan 1 ct garam.Kacau lagi dan masukkan santan pekat.Kacau sebentar supaya santan tidak pecah minyak. Tutup api. 

Add in 1 1/2 ladle of sugar. Stir and add in 3 tbsp.wheat flour(mix with water) and 1 tsp of salt. Keep stirring and add in the thick coconut milk. Stir awhile and don't let the coconut milk disperse.Turn off the stove.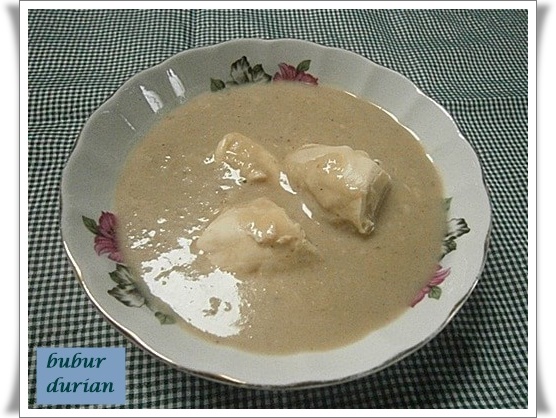 Alhamdulillah…… nak makan dengan roti benggali.  Alhamdulillah ……. to be taken with bread.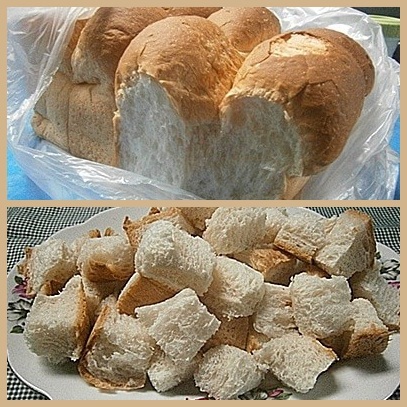 Tak tau la pulak mengapa roti ni diberi nama roti benggali.Yang tau ada kilang roti mamak di Penang dan ada kilang roti cina yg buat roti ni.
Potong roti ikut selera dan boleh dicicah bubur durian. 

Cut up the bread into desirable sizes and dip into the porridge.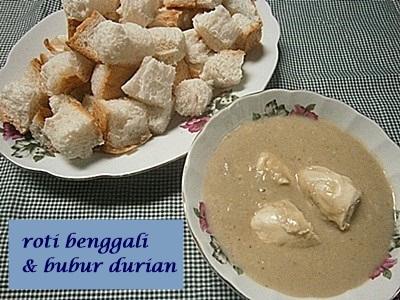 ٱﻟﺤَﻤْﺪُﻟﻠﻪ…..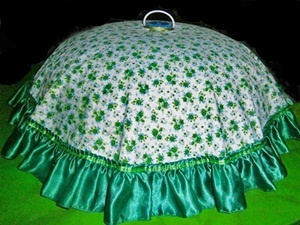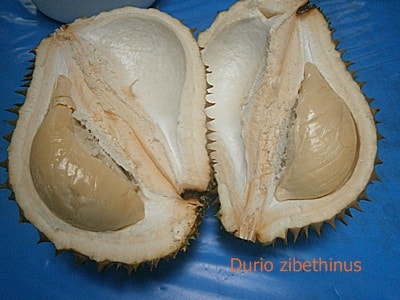 Orang tua2 kata, ulas durian yang terletak satu2 dalam satu pangsa begini dinamakan kucing tidor.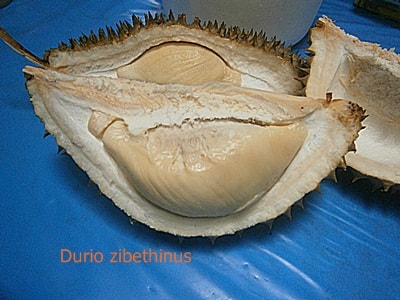 Some durian flesh may exists as single unit in one partition of the fruit. The old folks said that this resembles a sleeping cat.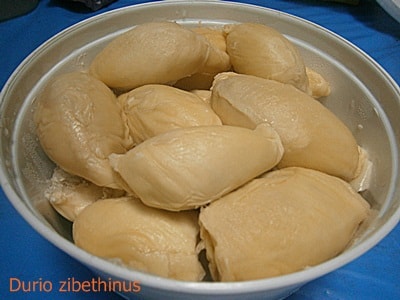 Yang ni isi kuning. These are more yellowish in colour.
–♣–