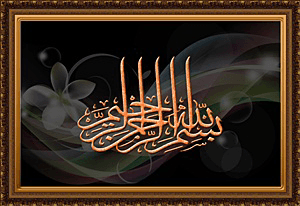 Kalau dulu, capati, ayah(arwah) yang buat. Lauknya kari kambing. Formerly capati for the family was prepared by our late grandfather. The dish that went with it would be mutton curry.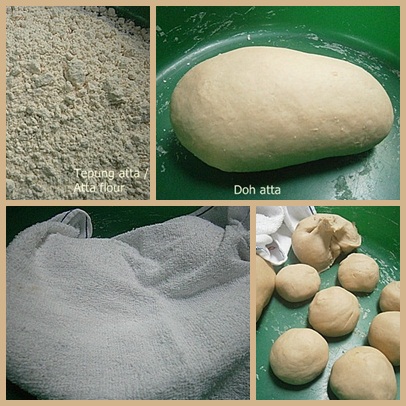 Masukkan air sedikit2 ke dalam tepung atta sambil digaul rata. Uli sehingga adunan tidak melekit di jari2. Adunan jangan terlalu lembab. Add in a little water at a time into the atta flour. Mix well. Roll up the dough until it doesn't stick to the palm. The dough must not be too moist.
Tutup dengan sehelai tuala kering dan biarkan sekurang-kurangnya ½ jam. 

Cover with a dry piece of towel and leave it for at least ½ an hour.

Bulatkan doh sebesar sedikit dari bola golf. 

Make small balls out of the dough.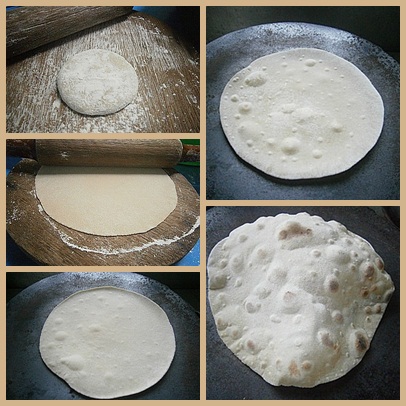 Salutkan tepung (tepung atta/gandum) pada setiap bebola doh sebelum dicanai. 

Coat each ball with some flour (atta/wheat) before rolling it out.

Gelekkan/giling dengan lembut adunan hingga nipis. 

Roll out the dough lightly until thinly flattened.

Letakkan di atas kuali leper yang telah dipanaskan. Biarkan permukaan doh sebelah kuali menjadi kering. 

Place on a heated griddle. Let the surface of the heated side of the dough becomes dry.

Balikkan roti dan biarkan sebentar. Bila roti mula mengelembung, guna sehelai tuala kering yg dilipat untuk menekan perlahan2 di tepi2 roti supaya ia dapat kembung sepenuhnya. 

Turn the bread over and leave it for a short while. The moment it starts to swell, use a folded dry towel to press softly all around the bread to ensure that it plumps up well.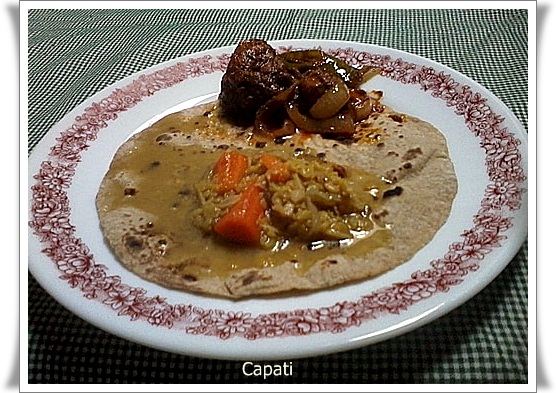 Alhamdulillah…..boleh dinikmati dengan kuah parpu, ayam goreng rempah dsb. Ni kalau makan dengan acar limau pun sedap…..  Alhamdulillah….. can be taken with any dhal gravy, meat curry etc. Can also have it with lime acar.