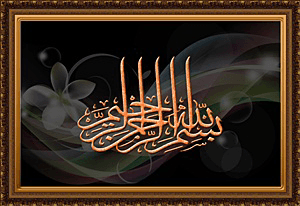 Ikan temenung /  mackerel  

Sejenis ikan laut.Nama lain ikan kembung,ikan mabung(Rastrelliger kanagurta) /mackerel.Harga pasaran semasa (Jan/2012)ialah RM 10 sekilo. Teringat zaman kanak2 makan nasi dengan temenung goreng panas2 ngan kicap.Sedaaap….Hari ni acik nak makan cara ni…InsyaAllah.
Ikan pun ada bisan.Bisan temenung — ikan selayang atau ikan sadin.
A marine fish.The current retail price (Jan/2012) is RM 10 per kilo.It's a nostalgia of childhood days,whereby we'd eat rice with freshly fried mackerel and soy sauce.Delicious……Today our acik wishes to have his lunch prepared this way…..InshaAllah. Just for memory sake and that flavour!
— ∗ —
Dah ada ikan temenung ni sedap jugak kalau buat laksa. Having these mackerel at hand,might as well prepare the laksa (rice noodles).
Cili kering,belacan,asam keping,lengkuas,serai,bunga kantan,daun cenenghom/kesum dan pudina.Kalau ada nenas pun sedap. Dried chillies,prawn paste,dried Garcinia atnoviridis, galangal, lemon grass,torch ginger,Polygonum spp.(Vietnam mint) and mint.It's also delicious with some pineapples.
Lengkuas / 

galangal

Bunga kantan / 

torch gingers

Daun kesum/cenenghom / 

Vietnam mint

Pudina / 

mint
Blend cili kering -yg.direndam (guna 2 genggam cili sbb.ikan 3 kilo) dgn.lengkuas.Rebus naik cili dan lengkuas.Masukkan belacan, serai yg.diketuk,bunga kantan yg.dibelah dua dan asam keping (guna 1 genggam asam–bergantung kpd.kualiti asam,kalau yg.muda kurang masam).Rebus hingga cili masak benar (boleh kesan dgn.baunya).Masukkan daun cenenghom dan daun pudina. Blend the soaked dried chillies(we used 2 handfuls of it,coz the mackerel was 3 kilo) with the galangal.Bring to boil in a stock pot the blended chillies and galangal.Add in the prawn paste,lemon grass(slightly crushed),halved torch gingers and dried Garcinia(a handful of it – depends on the quality,the younger type is less sourish).Boil till the chillies are really cooked(can be detected by its smell).Add in Polygonum spp.and mint.
Perisi ikan.Blend isi ikan dengan air rebusan ikan tadi.Tulang yg.telah diasingkan boleh diblend (2 kali).Masukkan isi ikan dan air tulang ke dalam rebusan cili yg.siap dimasak.Kacau sebentar dan masukkan garam secukup rasa.Lepas tu boleh lah tutup api.
Separate the boiled fish flesh from the bones.Blend the flesh in the fish stock.The bones can be blended (twice).Strain the bones.Get the liquid from the bone.Add the blended fish and the bone liquid to the prepared chilly gravy.Simmer awhile.Stir the gravy well and add salt to taste.Turn off the stove.
Alhamdulillah.Kuah dah siap. Alhamdulillah.The gravy is ready.
Laksa kering yg.direndam semalam pun siap dicelur. The overnight soaked laksa was blanched and its ready too.
Rampai sayurannya pulak.
..and the vege garnishings
Timun,bawang besar,cili merah,cili padi,daun salad,pudina dan daun selom.(Limau nipis tertinggal la plak).Boleh ditambah ngan pucuk janggus,pucuk putat dan ulam raja. Cucumbers,onions,red chillies,small chillies,lettuce,mint and Oenanthe javanica (oops,missed out the limes).U can add in young shoots of the cashewnuts,shoots of Barringtonia racemosa and shoots of Cosmos caudatus.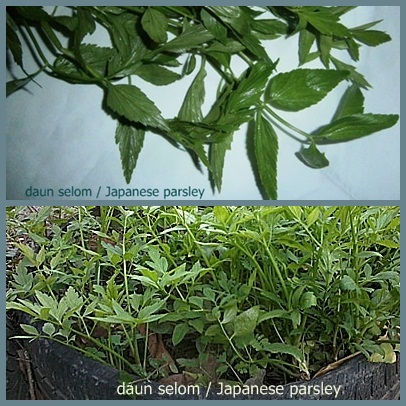 Daun selom / Japanese parsley
Daun salad / lettuce

Pudina / mint
Ralat sikit lah..laksa ter….lebih celur –putus2.
 slight disappointment though….the noodles were over blanched…weren't in normal long strands.
 Satu hidangan yg.mempunyai zat yg.hampir seimbang –protin(dr.ikan),karbohidrat (dr.laksa) dan vitamin dan serat (dr.sayur2an dan ulam2an)
A  serving that has an almost balanced diet —proteins (fr.the fish),carbohydrates(fr.the laksa ) and vitamins plus fibres (fr.the vegetables).