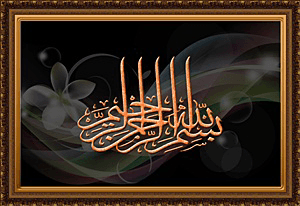 Antara haiwan-haiwan yang tinggal dalam pasir di pantai dan juga di gigi air ialah remis dan yat-yat. Among the faunas found in the  beach sand or the wash zone are the coquinas and the sand fleas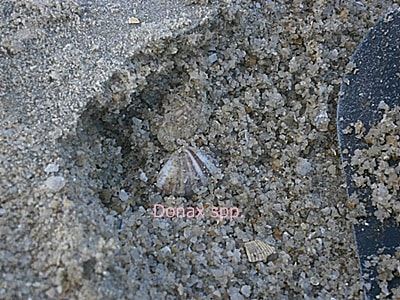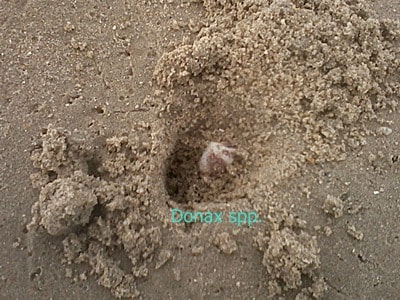 Awak-awak Ah Teik memberitahu,kalau nak korek remis/siput remis korek sedalam 2 inci sahaja. The fishing vessel crew, Ah Teik mentioned that if we wish to dig for coquinas,just dig within 2 inches deep only.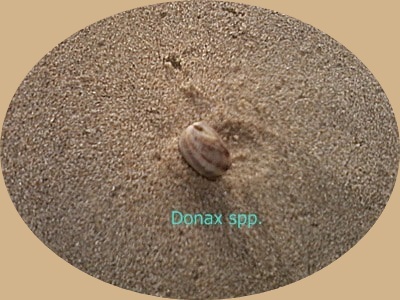 Remis ni pulak sedang masuk ke dalam pasir.Kalut la…… This coquina is busy burrowing itself into the sand.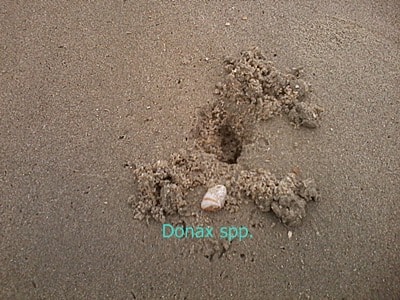 Kita akan berpeluang mengutip remis-remis yang terdampar berdekatan lubang di pasir ketika air surut di waktu pagi.Kata awak-awak Ah Teik,remis-remis ini dikorek oleh ketam pantai. We'll get the chance to collect coquinas lying by the holes in the sand during low tides in the early morning. According to Ah Teik, these coquinas were dug up by the beach crabs.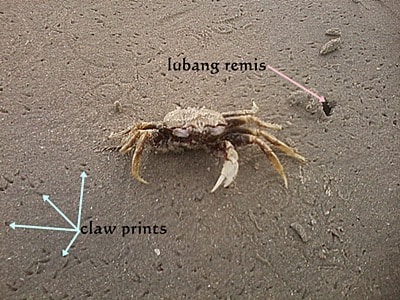 Ketam pantai ini kehilangan sebelah sepitnya. This beach crab had lost one of its pincers.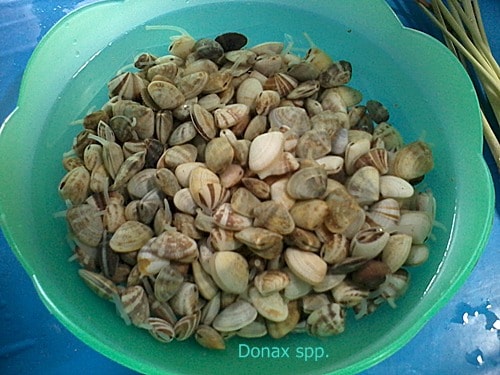 Ah Teik mencadangkan kami rendamkan remis-remis yang dipungut di dalam air laut sekurang-kurangnya 3 jam supaya remis-remis yang hidup itu dapat merembeskan pasir.Kaedah ini dibuat supaya masakan kita tak akan ada pasir nanti. Ah Teik suggested that we soaked the collected coquinas in sea-water for at least 3 hours.This is to ensure that the living coquinas will be able to spurt out  sand from within their shells.This also means that our dish will be free from any sand.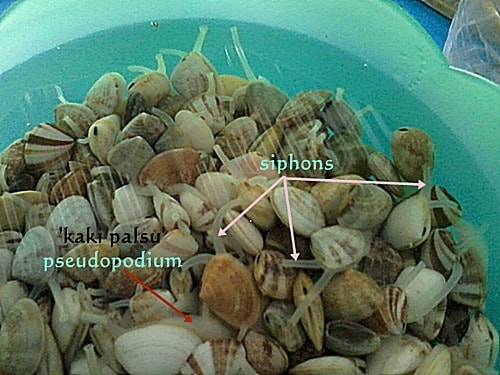 Remis akan sedut dan rembes air melalui sifon-sifonnya. Mereka bergerak menggunakan 'kaki palsu'
Coquinas will inhale and exhale water through their siphons.They move about using their 'false feet'.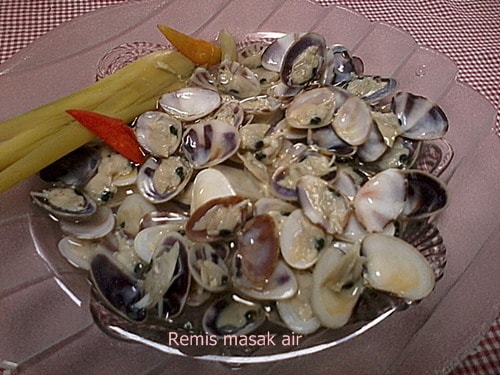 Masak secara ringkas.Rebus 1-2 batang serai dan 4-5 biji cili padi.Biarkan mendidih dan serai betul2 masak. Masukkan remis dan biar ia betul2 masak. Remis-remis akan terkopak kulitnya. Simply boil 1-2 stalks of lemongrass and 4-5 small chillies. Add a pinch of salt.Let it boils till the lemongrass is well cooked. Add in the coquinas and let it cook thoroughly.The shells will open up.
Ada kawan beritahu, remis masak gulai rempah daging dengan ubi keledek.Sedap sangat,katanya. A friend relates that coquinas cooked as a curry dish (use meat curry powder) with some sweet potatoes is very delicious.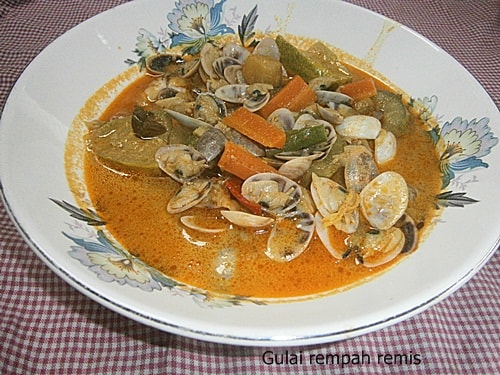 Gulai remis yang dimasak oleh seorang kawan. Coquina curry prepared by a friend.
Harga remis di pasar (2013) ialah RM8 sekilogram. Satu pot susu remis bernilai RM3.
The current price for coquinas is RM8 per kilogramme (2013) and a small milk can of coquinas cost RM3.
— Ω —