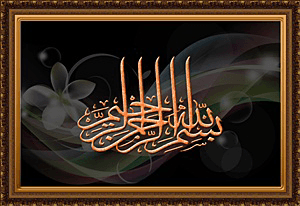 10 Zulhijjah 1435H bersamaan 5 Oktober 2014 ialah tarikh yang telah dipilih oleh Masjid Jamek Telaga Air (MJTA), Butterworth dari 4 tarikh yang dibolehkan untuk Ibadah Qurban.Alhamdulillah diketemukan dengan tarikh ini. 10 Zulhijjah 1435H of the Moslem Calender that coincides with 5th October 2014, was chosen out of the 4 permitted dates to perform the sacrifice.Alhamdulillah we're destined to encounter this date.
Upacara dimulakan selepas solat sunat Eidul Adha dan cuaca agak mendung dengan hujan rintik2. The ceremony started off after the Eid al-Adha prayer with a cloudy sky and drizzles.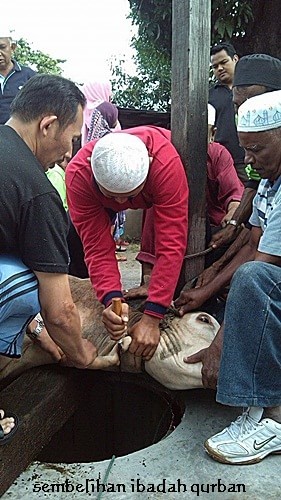 Sembelihan pertama pada kira-kira pukul 10 pagi.Penyembelihan disempurnakan oleh Imam satu MJTA. The first slaughter was around 10.00 am.It was carried out by First Imam of MJTA.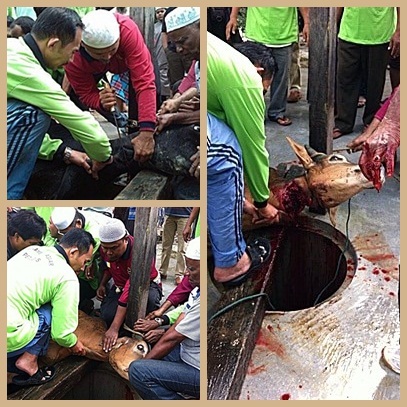 Imam 1 dan Imam 2 memikul tanggungjawab penyembelihan.The first and second imams held the responsibilities in slaughtering.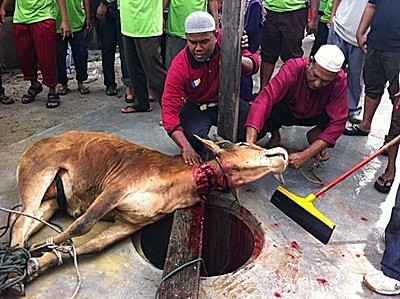 Kesemuanya 5 ekor sembelihan. There were 5 cows altogether.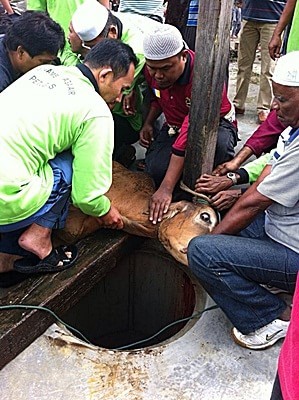 Dalam tenang ia menyerah diri kepada Allah. Peacefully it surrendered itself to its Creator, Allah The Almighty.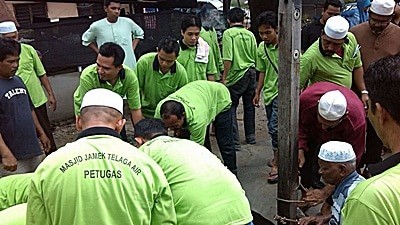 Di sudut penyembelihan. At the slaughtering corner.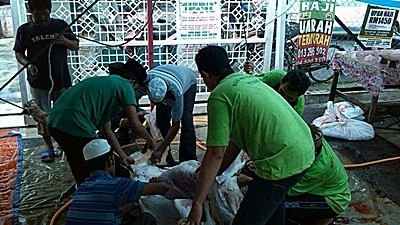 Kumpulan yang mengendalikan bab lapah. The team that performed the skinning.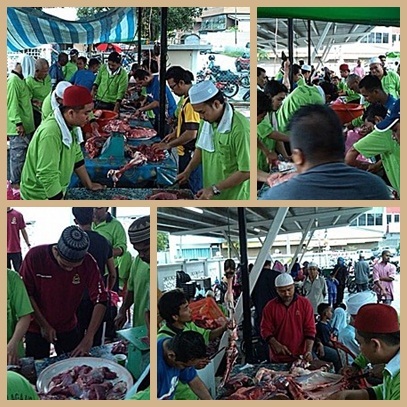 Kerja2 memotong  dan menimbang daging untuk diagih-agihkan . 

Cutting and weighing the beef to be distributed to the village folks.

Dengan niat kerja ini sebagai ibadah, InsyaAllah semua akan berjalan lancar. 

With pure intentions that these jobs are done for Allah's sake,InsyaAllah things will go smoothly.

Gotong-royong menyatukan hati-hati yang ikhlas. 

A teamwork unites the sincere hearts.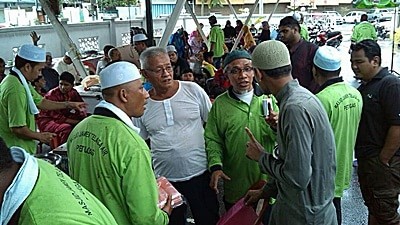 Setiausaha Qaryah MJTA memberi penjelasan tentang kaedah pengagihan daging kepada seorang warga asing. The secretary of MJTA clarifying on meat distributions to a foreigner.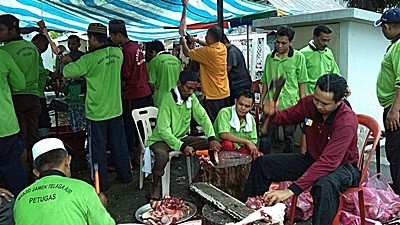 Kumpulan yang mengendalikan tulang. The group that handled the bones.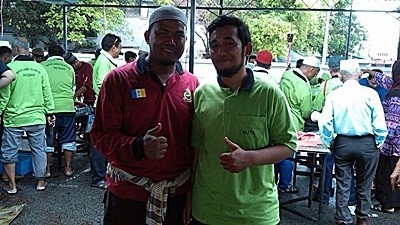 Alhamdulillah…..selesai sudah satu pertanggungjawaban. Alhamdulillah….. a responsibility fulfilled and we called it a day.
Catatan :  satu majlis telah diadakan selepas itu. NB : A feast was held after that.
 – ♥ –